Antelope Canyon - A Photographers Experience
Jan 08, 2017
by Thomas Schoeller 1/6/17
My Autumn of 2016 Photo Safari of the American Southwest was an amazing experience that was a well planned and executed excursion. I invested a great deal of my time into researching this excursion before the final details of the itinerary were completed and reserved on January 01, 2016. I explored at length all 5 of Utah's National Parks and make side trips into northern Arizona including the mesmerizing slot canyons that have become quite the sudden rage, the Antelope Flats, and its network of slot canyons.
This photo trip kept us busy for nearly a full month. During previous photography adventures out west, I teamed up with a fellow photographer and good friend from Vermont, John Vose. I've found networking with other like-minded professionals to be valuable for splitting expenses at many levels. I recommend this to any photographers that travel extensively and take some degree of risk. An extra benefit is the fun you'll have blasting your photography buddies accidentally with counter-assault bear spray, or packing their pockets with aromatic sweets for backcountry excursions while hiking in bear country. (sic. LOL, too funny, really)
Since the risk of a Grizzly encounter is not even remotely possible in southern Utah or Arizona, it opened up a great opportunity for my wife Carol to share this photography adventure with me as my photography assistant. To this day, she is still waiting to get paid! This would be our first time experiencing an Antelope Canyon photo tour, an eye-opening and costly experience that we were not prepared for. Thus the very root cause for writing this article.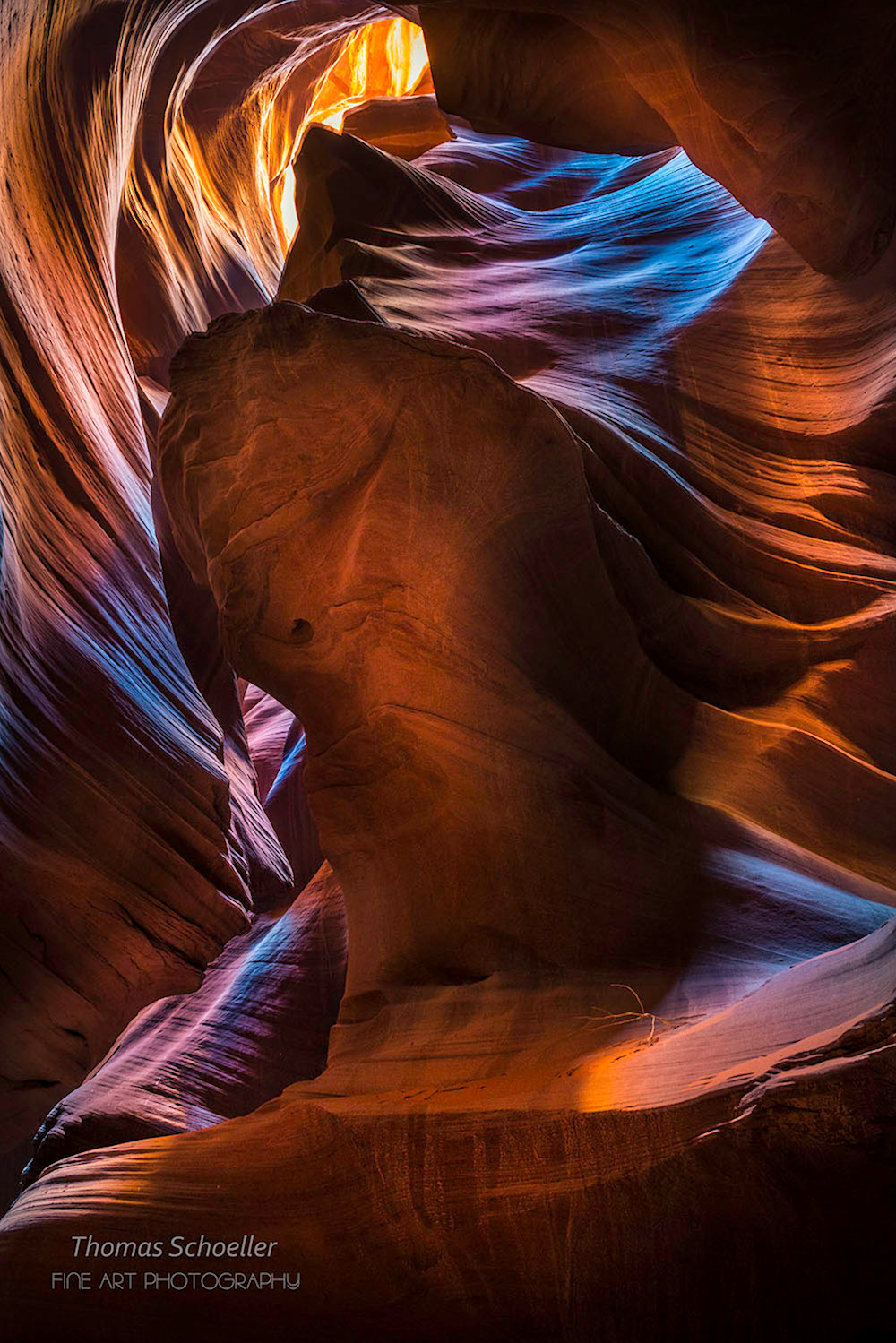 Titled "Light Chamber"
I'm told the network at Antelope Canyon is now the most photographed slot canyons in the world. It's located on the Navajo Indian reservation near Page, Arizona in the shadow of the Navajo 2250 megawatt power generating station. My article on these slot canyons is rather polarized since there was (as of December 2015) very little published information describing the details and behind the scenes reviews of the "photography" tours. My goal here is pretty simple. Enlighten serious photographers on any level ranging from novice to full pro for what they are about to experience, the actual cash investment, and how to be best prepared for your slot canyon exploration.
First, let's begin with a brief modern-day history of the Antelope canyons.
The canyon's interior was first photographed by a local southwest photographer named Tom Till dating back to the late 1970s. At the time, Till was the most serious landscape photographer in the region, and his work had been and still is used for environmental battles to save endangered places and the creation of new parks and wilderness areas. Till would often describe his experiences as "he could travel right up to the canyon's opening and spend as much time as needed without a single human being present".
As you can see, much has changed since tourism has brought its commercialism and crowds. By 1987, private tour companies have been permitted to offer tours of the canyons. Up until 1997, you could still access the slot canyons without a guide. Since '97 when the Navajo Tribe made it a Navajo tribal park, access to Antelope Canyon is gated and restricted to authorized Navajo tour guides only. In short, if you want to photograph the abstract wonder, bounced light and light shafts the canyon is known for, there is only one game in town.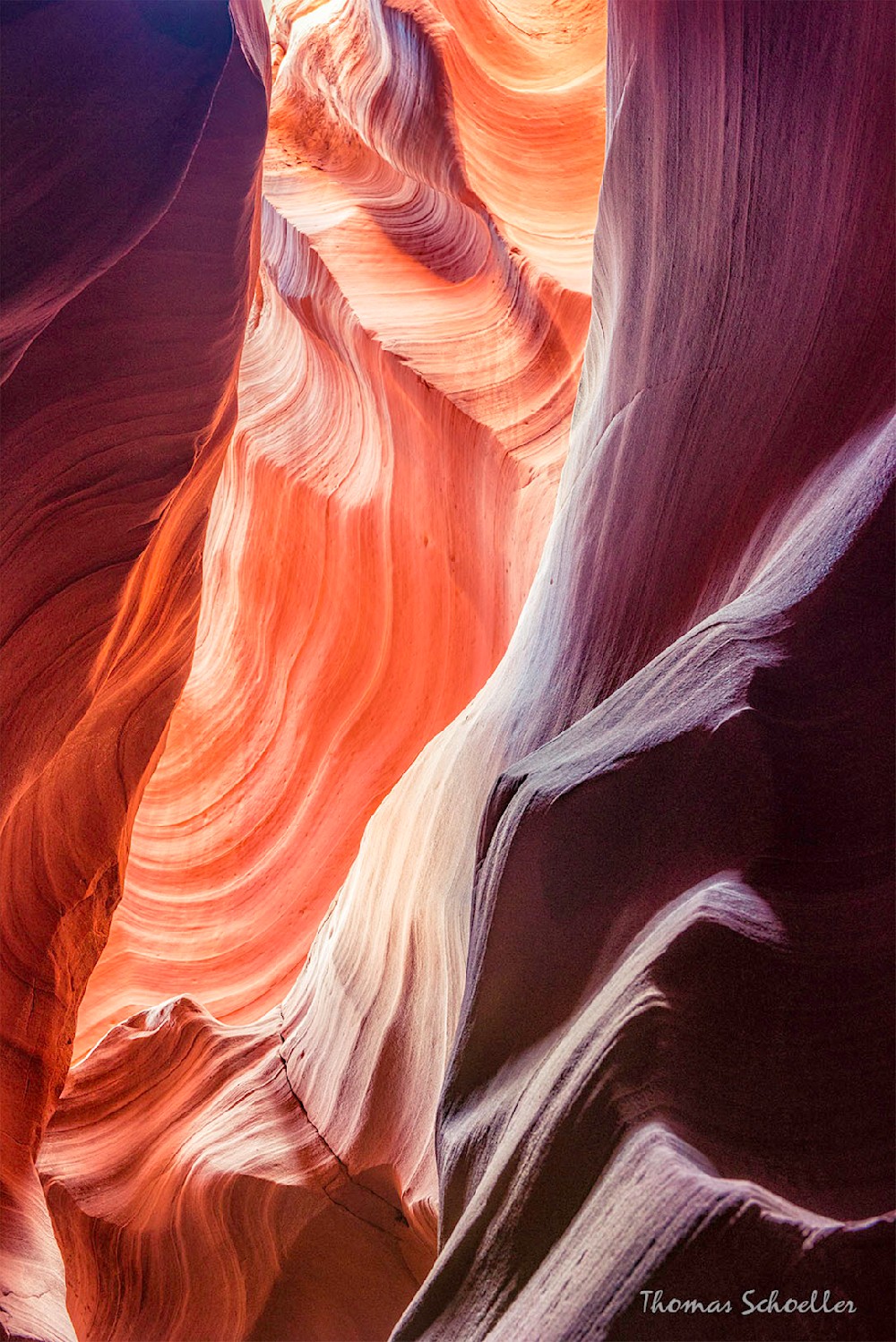 "Permanent Wave"
Antelope Canyon is actually two distinct and separated guided tours. The Upper Canyon, and Lower Antelope Canyon. Both offer different and unique explorations. The Upper Canyon requires a 12 minute long rough and dusty drive provided by your hired guide near the slot entrance where you can easily walk in. The shafts of light that penetrate during the summer months are far more common here. Lower Antelope Canyon is a few miles from the Upper Canyon and it's parking area is much closer to the slot's entrance, however, requires a very steep and high metal staircase climb. The difficult access tends to cut back on the number of tourists that visit here. It's much longer than the Upper Canyon, and the footing in places can be difficult. As you can imagine, the Upper Canyon will draw far more casual tourists and sightseers who don't understand what you do or care for that matter and are a handful to manage. If you're a serious, or pro photographer, this obviously makes your job far more difficult. Given my limited time allotted for the balance of my day, I made a quick decision and gambled on the Upper Antelope Canyon.
With the huge influx of visitation, fully guided tours are perhaps a necessity. The risk of a flash flood is very real. NOAA weather radio and the National Weather Service alarm horns are stationed at the Navajo fee booths to warn of impending risk. The guided tours provide a way to account for and accommodate the virtual flood of humans that are far more inconvenient and happen more frequently than the rising floodwaters do.
Moving on with my tour experience.
As stated earlier, this is a biased article based on a handful of unexpected drama's I experienced that could be avoided with a much better-organized effort by the Navajo tours. The day began in the darkness of pre-dawn leaving Ruby's Lodge in Bryce Canyon N.P. We had a few hours of travel ahead of us, and I wanted to get the best lighting possible for at least one of the slot canyons and if at all possible, try like heck to get to Horseshoe Bend for sunset.
Arriving before noon, the directions I Googled brought us directly to one of the "Antelope Canyon Navajo Tours" just north of Rte 98 and east of the huge Power generating plant. A crude hand-painted sign on the edge of the roadway directed you to an open sand parking lot. We navigated to what appeared to be the place to congregate. Sitting alone behind a simple folding table was a middle-aged Navajo woman who seemed rather detached or not interested in the slightest. Posted signs crudely attached to poles directly behind her contradicted each other which was cause for eyebrow-raising concern. One of them read NO PHOTOGRAPHY / NO TRIPODS allowed. Funny, I had Googled Antelope Canyon Photography Tours and it directed me here. Other posted signage warned you that the contents of your vehicle in the parking lot may be at risk! So, what the hell man? Am I in a third world country?
So after browsing the interesting signs, I approached her table. No formal greetings from her, no smile or how can I help you. I'm sure if I stood there and not verbally inquired, the awkward silence and blank stare could have lasted a long time. She seemed unwilling to divulge much information at first, or even elaborate past simple terse replies to my questions. Having a bad day perhaps counting all that cash? In the meanwhile, my time is wasting away.
Finally, she paired multiple words into a question and asked me if we had stopped across the road at the other Canyon tour establishments. I told her "no, this was the first place we stopped. I'm a professional photographer. I'm here today to book a photography tour at least for one of the slot canyons". Instead of being purposely vague for what seemed an eternity, she could have made this more pleasant and told me upfront she was one of 4 tour guide services and her's did not offer photography tours!
So, the first lesson learned, find out exactly which Canyon Tour's offer photography tours where tripods and advanced equipment are welcome.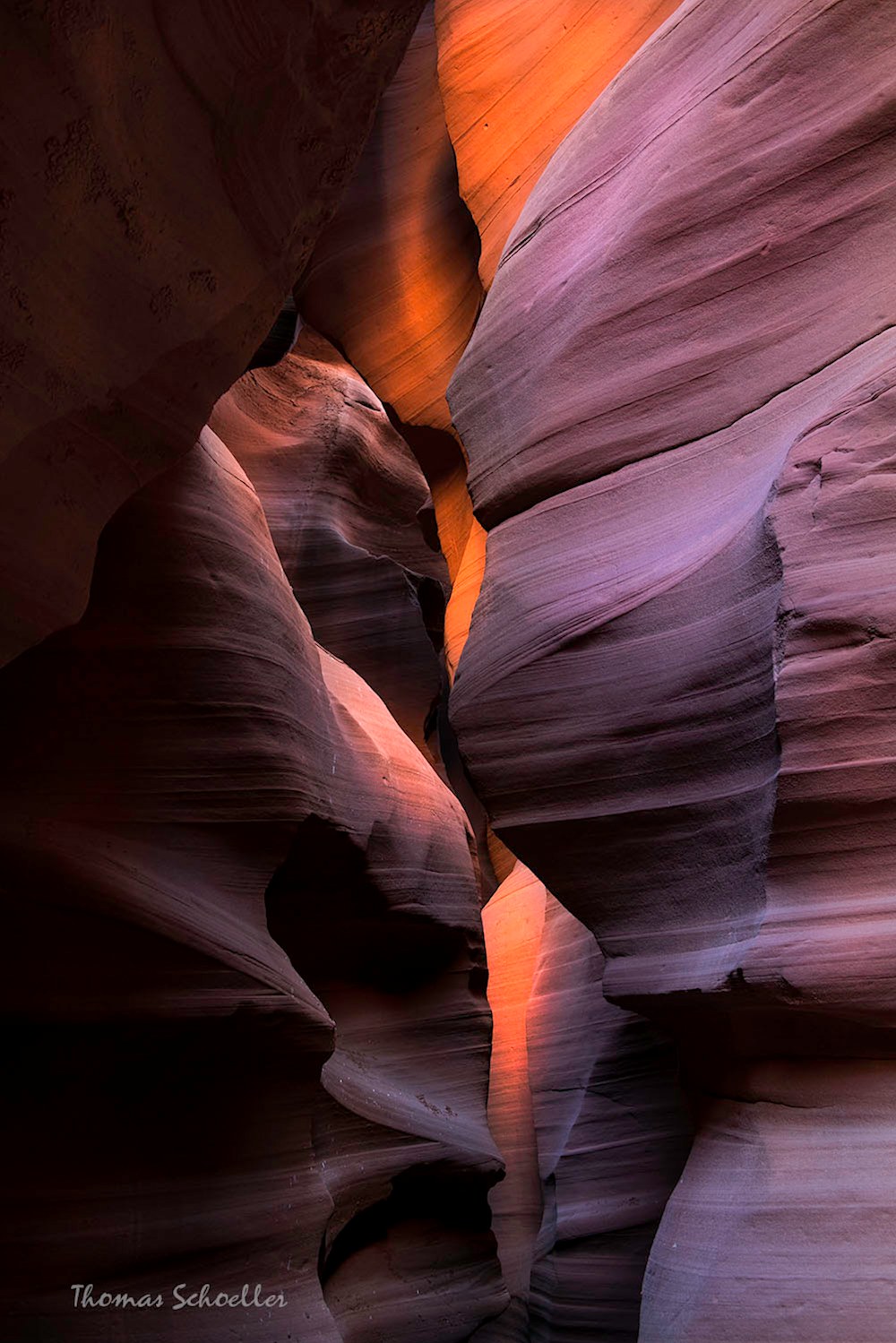 "Fire Inside"
Get out your pen or bookmark this page!
Here' the financial damage your about to incur if you plan to use more than use an iPhone to make images. The first chore is to head over to the Navajo Indian council (Parks and Rec) off Hgwy 98. They have it set up that a "Special Use Permit" is required for doing photography. Of course, Park and Rec don't have a booth set up at any of the tour guide booths since that would simplify things. (pardon my sarcasm, I really wanted to go off on someone)
This requires an additional trip all the way back to town, to find a trailer, behind a white cinder block building. No shit, that was the exact directions given. Just like a corny 60s Spaghetti western. The Special Use Permit is in addition to the fees you'll be paying to the tour guides later. The permit includes a "park" processing fee of $50.00 plus an additional $8.00 per person fee. Including fuel and drive time, you're now out of $70.00 before you arrive back at the same tour guide location with this permit in hand. This fee is subject to change by the way! Yessir, by the time you return $70.00 poorer they may change their mind! I was told this permit "could be revoked for any reason at any time per the discretion of parks manager". I'm sensing this is going to be a rather exploitive excursion and having doubts that the absorbent fees will not be met with a quality experience.
Permit in hand, we head back. Mission accomplished? Nope, it gets more interesting
We race back to "Adventurous Antelope Canyon Guided Tours". Pulling into a sandy gravel mix parking lot with a small trailer that serves as an office with a pole barn awning and a handful of benches that offers some shade from the sun's rays. After parking our SUV rental, at my own risk, of course, we made our way over to the trailer to meet up for our scheduled "Photography Tour". After displaying my costly special use Navajo Park permit, the guided tour fee is an additional $150.00, per photographer! They did in fact try to extort an extra $150.00 for my wife, however, I successfully negotiated my wife's fee down to $26.00 since she was not a photographer. The photo tour expense not including the $70.00 "park" processing fee and $8.00 per person "entry fee" was $176.00.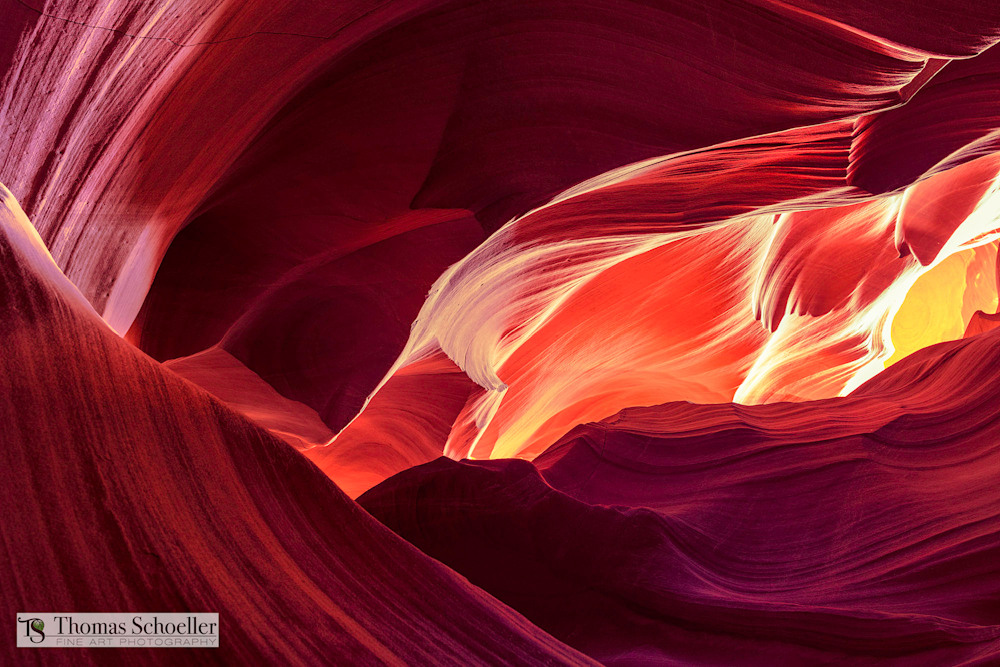 "Endless Flow"
The Tour Begins. Three photographers, each of us with a single guest, are assembled separately from the standard canyon tours that are being herded like sheep. Our tour guide was a young twenty-something Navajo and a nice personable kid. He starts by going through a prepared talk and tries to convince us what ISO and aperture settings the guides want you to set your camera at. It's an obvious attempt to make this a quick and simple photo tour. Bump up everyone's ISO for very short exposures, which comes at the expense of professional gallery-quality fine art images so they can rush the hoards of Asian tourists off their buses through and take their cash. Ugh, Bullshit!
I am not going to make it easier to zip us in and out of there, not on the $250.00 that I just invested! One of my eyebrows lifted, ala Clint Eastwood, and was noticed by our very young male tour guide. This same "look" my wife stresses over since she knows it's usually followed by myself providing an attitude adjustment on someone that oversteps their boundaries. I calmly explained I'm a full pro, I lead advanced photography workshops back home and I'm not here for an intermediate or beginner photography lessons.
~ The second lesson learned, speak up on your own behalf!
I was able to convince the tour guides to give us the promised 3 to 4 full minutes per session inside the canyon to compose and execute. *Side note* It did turn out our photo tour guide was a really cool dude. We chatted during the tour and he explained it's a way to test out the group to see if any really serious photographers are present. Most it turns out are not, but are required to pay extra for a tripod and to keep tourists at bay.
During the rough drive to Upper Antelope, my wife and I acquainted ourselves with the other photographers and their guests. One couple was from France, the other from Germany. The French couple told us we were the first American's they met beyond lodging staff or fuel-ups since they began exploring during their southwest trip. No doubt, the wonders of the American Southwest are a worldwide attraction. The two couples from Europe were just photo enthusiasts whom I found had only basic skillsets when we began setting up for our first composition in the slot canyon. I felt terrible for them! I was able to bracket 2 sets of 3 exposures before they had their tripods ready to make a single exposure! They watched me, slack-jawed, as I rapidly adjusted my carbon fiber tripod and ball head for the first photoshoot opportunity. I brought this up to our guide to allow them advanced notice to ready themselves before the next stop.
Timesaver TIP: Once you exit your transport vehicle have your camera body firmly attached to your ball head and at least fully extend the lower portion of your tripod legs.
I convinced our guide to allow the trailing tourist sightseeing guided tours to pass through so the other 2 inexperienced photographers could set up and prepare. That worked great for everyone, even giving myself additional time to photograph scenes upwards so passing tourists could not find a way into my field of view. These were bonus shots that are very difficult to get within Upper Antelope Canyon. He managed to work this out twice with other Navajo tour guides that were all too glad to keep their perspective tours moving along. This was our guide's final "Professional Photographers" tour of the day, he was kind enough to allow our time limit to run past the allotted 2-hour time frame, no doubt influenced by my urging him on. This helped mitigate some of the negativity and confusion that greeted us when we arrived. To some degree, this left my wife and myself with a positive upward trending vibe as the tour completed.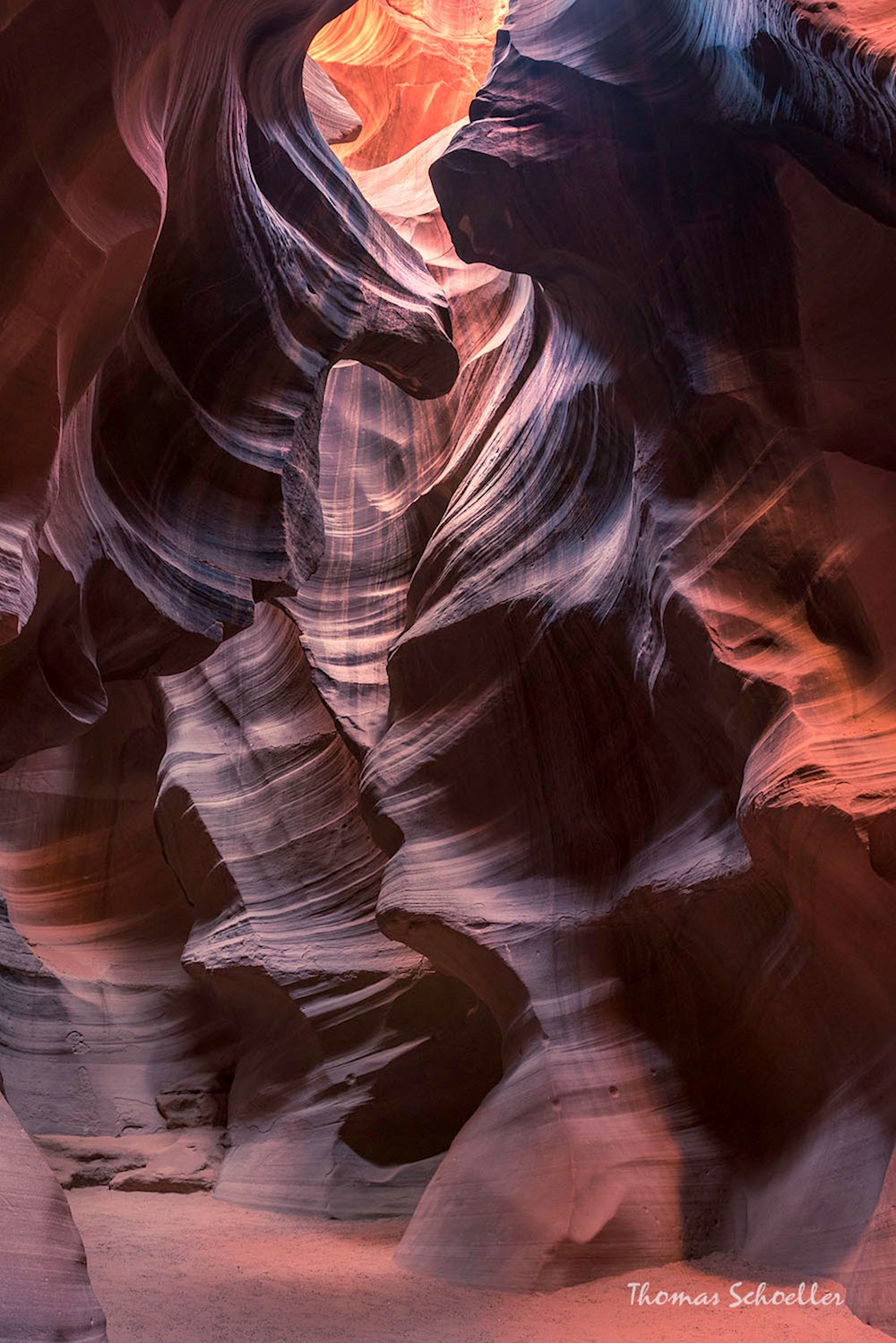 "Eternal Spirits"
Contact Information you May Need
Here is the contact information for the Navajo Park and Rec Dept located in Window Rock, Arizona. Ph# 928-871-6636. You're inquiring about a Special Use Permit since you are using a tripod, which is highly recommended. You'll be making exposures over 30 seconds. This permit is a must-have.
The tour guide service I used was Adventurous Antelope Canyon Photo Tours, LLC. The website is www.navajoantelopecanyon.com Prepare to pay $150.00 per photographer.
Equipment to Bring, don't take this advice lightly
It can get real dusty inside the slot canyons thanks to the winds above. This sounds weird, but you'll only need to bring one lens and you won't want to risk a lens swap inside the canyon. Removing a lens inside the canyons will undoubtedly increase the odds of dust specs all over your sensor. An ultra-wide lens is not needed! I used a 24-70 mm F/2.8 on a Nikon D810 body. The D810 provides has an incredible dynamic range. Despite bracketing 3 exposures for each composition, manually blending exposures during post-processing was unnecessary. If you have a good 24-120 mm lens or similar this will give you a nice reach to crop scenes as you'll have limited room and time inside to move about. Lastly, but very critical, bring your lens cleaning kit with you and attach it to your belt or have your guest hold it for you. Blower, brush, cleaning solution, and 2 lens cloths just to be safe. If you don't own a blower, purchase one before your trip! I also advise you to pick up a Ruggard rain cover #RC-P8 which protects your equipment from rain, dust, and mud. They are easy to use on a tripod, universal fit, and allows your hand inside to make manual exposure and focus adjustments.
Risk:
If there is a risk of flash floods, they'll cancel the tour until the risk subsides. If you bring too much equipment in the Navajo off-road transport vehicle you may be forced to leave some behind. I'm not kidding when I tell you to bring only what I listed above. The transport vehicles are not secured or locked per Navajo tribal law. I'm not implying your belongings will disappear but is that the risk you wish to take?
An additional risk that is inherent is will you get good value in return for your investment? During your photography tour, it's almost a certainty that stray tourists could ruin a few shots! Most strays do not speak English or understand their Navajo guide. They seem to aimlessly wander into your range of view, or feel the need to move your camera and tripod out of their way so they can catch up to their group. Certainly not with malicious intent, they are just plain ignorant to what you do so just be cognizant of your tripod location.
Streamlining your equipment and arranging your permits in advance will remove tons of stress and drama from your excursion. Remember, if you are there to make great images you MUST book a photography tour and NOT the sightseeing tour. I saw several photographers waiting under the tent with a full photography backpack and tripod pay for a sightseeing tour. They were all turned away and told "Oh no, you can't bring photography gear into the canyon during a sightseeing tour, just your iPhone".
I wish I had a tell-all guide and all necessary contact information beforehand!
Real-World Cost Comparison: Consider yourself forewarned.
Let me provide you with some eye-opening facts to consider if your a photographer by comparing the fees for an Antelope flats guided tour vs. a 1 year National Parks Pass. For $80.00 you can purchase 365 days admittance for National Park and Federal Recreation lands. It can be shared amongst 2 owners and allows kids under 16 for free. No limitations on how many visits, and you can enjoy free ranger-led excursions and amazing hikes as well as the visitor centers and restrooms.Yosemite, Glacier, Yellowstone, Acadia, 59 in all within the USA, and good for a full year. By comparison, the Slot canyons, as of this writing you may expect to pay $150.00 for the photography only tour, $26.00 for a guest, plus an additional $58.00 Park and Recs fee per photographer. That's $208.00 of non-refundable fees for approximately 2 hours of photo tour vs only $80.00 for a potential of 438,300 hours. You guessed right if you figured out the slot-canyon tours do NOT recognize National Park passes. Granted, this is a privately operated tour and I would have gladly secured a professional guide service to get me to a difficult natural feature to photograph it. As an honest final assessment, for the length of time and what you get in return for your money at Antelope Canyon's excursions, it's highly exploitive.
Lastly, if you are able to get out early enough from an Antelope canyon photo tour try to head over to Horseshoe Bend of the Colorado River for sunset!. It's 20 minutes from Antelope Canyon on Hgwy 89 to the parking lot, and then a steady 1 mile upward hike to the 1,000 ft. high cliffs.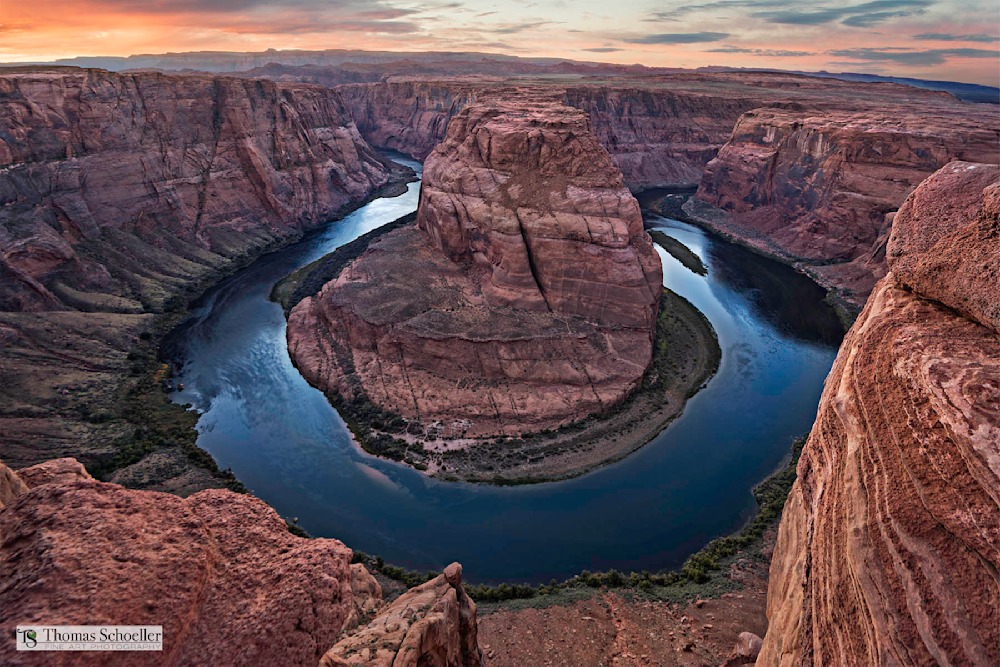 Happy shooting friends!