Rocky Mountain National Park and Colorado Photo excursions
Oct 30, 2016
by Thomas Schoeller
All photos are © Thomas Schoeller Photography
My first visit to Rocky Mountain National Park goes way back to a 2005 cross-country motorcycle trip that began in Connecticut with a group of biker friends. I was spellbound and fascinated, leaving me with a strong urge to park the bike someplace secure, leave the asphalt behind, and hit the trails. I realized RMNP was a destination I was destined to return to and explore every nook.
For many years, most of my photography excursions were based in the northeast, working on creating a large portfolio of Fine Art and stock imagery of New England and Blue Ridge Mountain regions. I could not however ignore my lust of the American West. We had a return photography trip booked for Glacier National Park in 2015. It was an abominable year for forest fire in western Montana late that summer so we changed our destination to RMNP and surrounding Colorado locations. Colorado is well south geographically from the northern Rockies of Montana and the atmosphere was quite exceptional for landscape photography.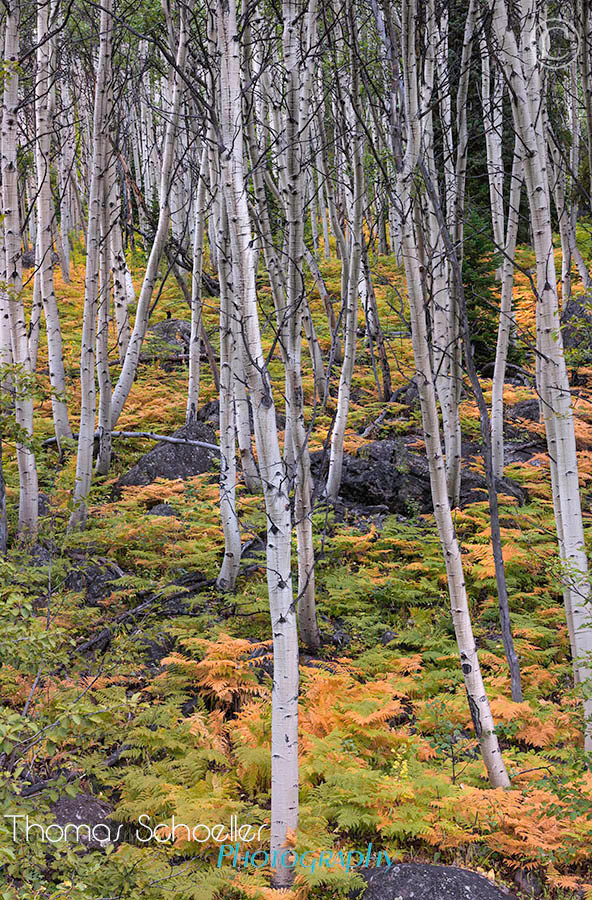 My first photography excursion to Colorado and RMNP was for slightly over 2 weeks. I teamed up once again with a fellow New England photographer and good friend John Vose. We began by photographing within Rocky Mountain National Park, then we planned to head further west near Aspen and Crested Butte just as the early autumn leaves were beginning to change. We ended our excursion back at RMNP before we flew back east.
Typically, a nature landscape photographers' day begins hours before the sun rises. As much fun and exciting as a trek in the wilderness can be, the common person that is not a photographer has no idea how much hard work and preparation goes into planning and executing a photoshoot. Indeed, we are a crazy lot! Waking at ungodly hours, packing essential gear, and dressed in appropriate body armor we hit the road with anticipation. Trail hiking begins with headlamps on to see in total blackness. Canisters of bear spray are ready to employ in a millisecond. Photographers are a rare breed of "light chasers", all after a similar zen-like experience, out to capture fleeting moments when that soft cherry light called alpenglow kisses the bellies of the clouds and illuminates the tops of the highest peaks! On any given trek, we may have invested several miles of hiking with 40+ lbs of camera pack and a thousand feet or more of elevation gain to arrive at our destination.
The following images and accompanying stories are all from my 2015-16 Colorado photo sessions. I hope you enjoy and note that you can find these images available to own on luxurious fine art display presentations by exploring my website.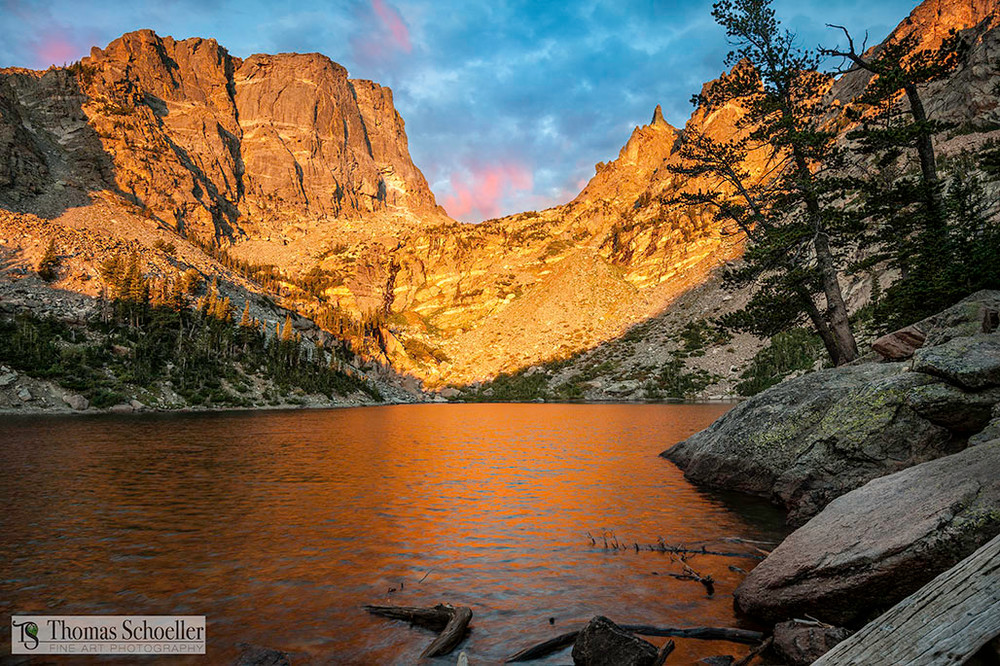 When the moment of magical light begins, I'm in a trance-like state that either man nor beast dare interfere with. If there is human presence beside myself, it's always another landscape photographer trying to shoot the same scenery. It's important to be respectful to fellow photographers and be cognizant of each other's field of view. It's easy to get tunnel vision when you are so focused on capturing a magical moment. You don't feel the cold, the leg cramps, or how exhausted you were seconds ago. It's exhilarating, a pure and absolute freaking rush!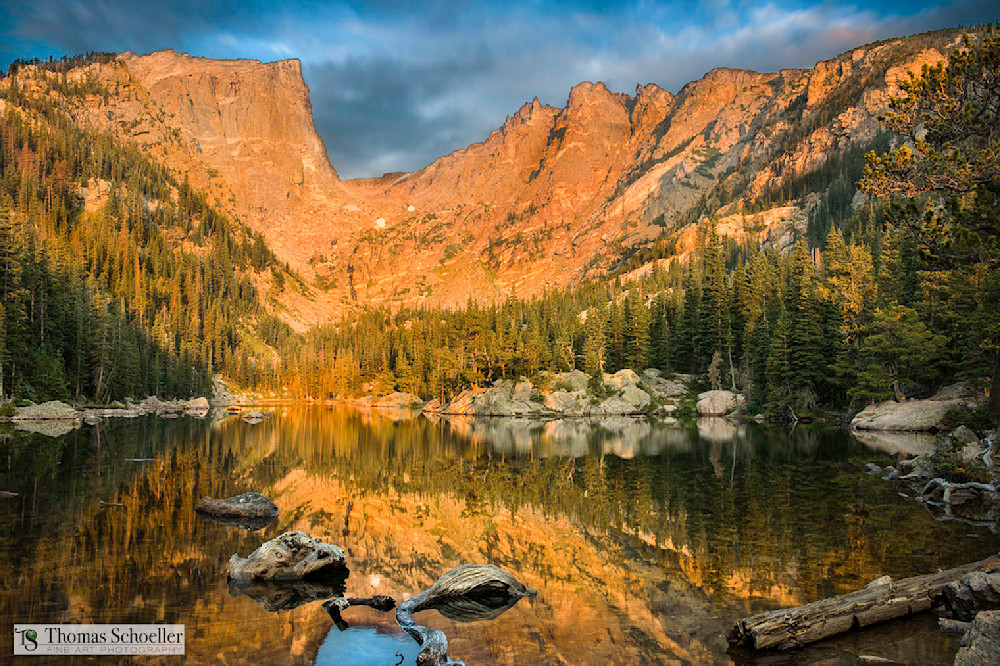 Each shutter click is made with technical accuracy, factoring in the proper depth of field for sharpness, and time for proper exposure to record highlights and shadow detail. A level horizon is a must. I prefer to get that perfect while making the exposure. Carefully, we explore the viewfinder while composing. It's essential for a great photograph to exclude items like twigs and branches that don't add a pleasing aesthetic. Most of us call them pokies for you know, things that poke into the field of view. I commonly bracket exposures which can be manually blended in the digital darkroom later. This allows you to combine the most subtle shadow detail and cloud colors while preserving the details in the brightest areas.
The top photo above is from Emerald Lake, about a 4 mile in and out hike from Bear Lake at an elevation of 10,110' above sea level. Generally speaking, the trail is considered a moderate hike when grading its difficulty. At roughly 400' of elevation gain per mile, while chasing the first light of dawn, I can assure you the time constraint and stress over missing the magical moment makes this a lung and calf burner! When you are trying to be in place and ready to make exposures, it is a sprint that would make any Cross-Fit athlete envious of.
The second photo above was from a beautiful morning at Dream lake which is just a short 20-minute hike from Emerald.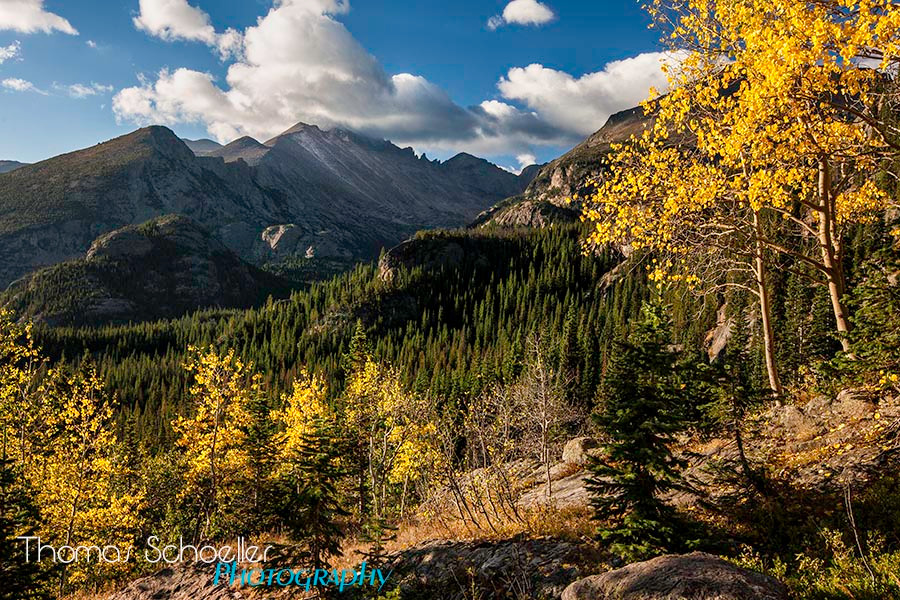 Despite the rapid change of morning light, it's still pleasant enough to continue making exposures an hour or so after sunrise in RMNP. The image above was from the trail as we trekked out of the backcountry en route to a hearty, well-deserved breakfast in Estes Park. This is a view overlooking Glacier Gorge and the park's highest elevation, Long's Peak. The side light added dramatic touch, nice contrast, and illuminated the golden Aspen foliage beautifully. The lighting became quite harsh shortly after making this exposure, making for what usually is a short workday. I'll never forget what a relief it was to use different leg muscles on the downhill return hike.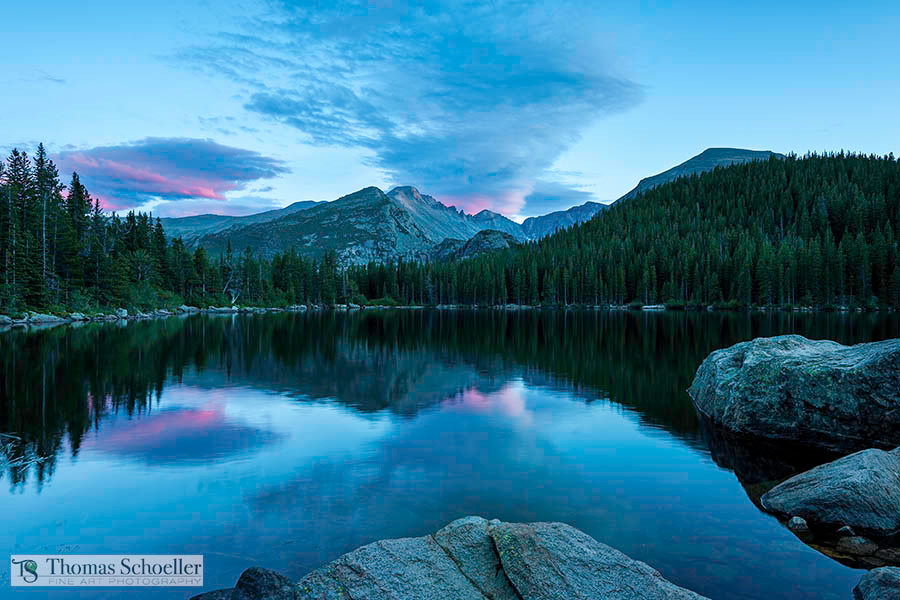 I like to use the mid-day hours to scope out composition and locations for making beautiful wall hangers. As an example, we took our time and explored every crevice that surrounds Bear Lake. I take a handful of test shots to review carefully during the day. Sometimes, I'll make dozens of test compositions and decide before the actual photo session which of them were most pleasing to the eye.
We arrive for the end of day golden hour, sunset, and dusk spectacle of light. We'll move from spot to spot around the lake, capturing all the drama as the day ends. The image above was one of my favorites taken at dusk from the west side of Bear Lake. Alpenglow turned the fringes of the clouds over Long's Peak a gorgeous magenta hue. The reflections were beautiful, and the blue hour dusk tones made for a very serene and therapeutic image.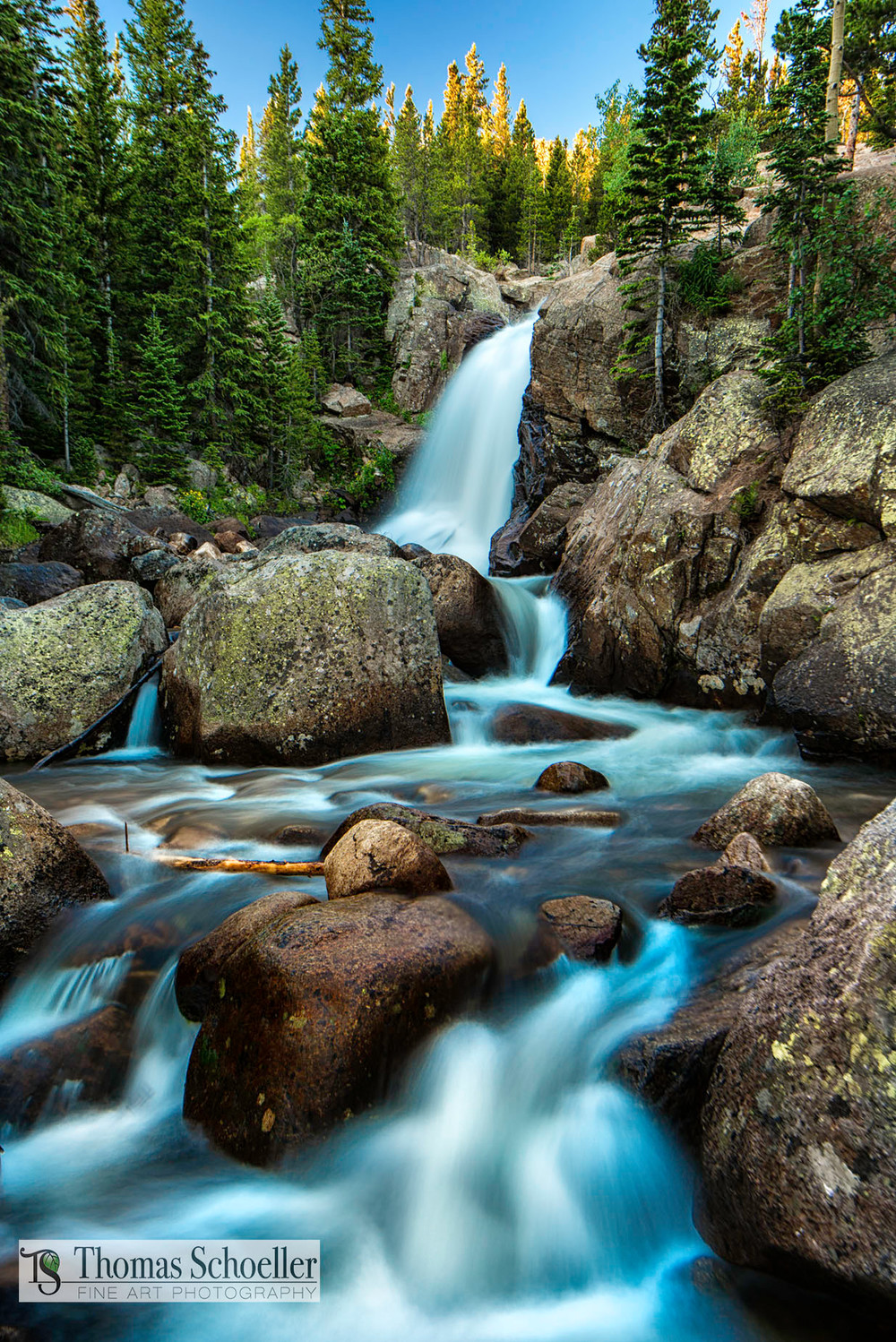 Another hike that begins at the Glacier Gorge trailhead takes you to the scenic cascade known as Alberta Falls. Not named for any place in the Canadian Rockies as the name might imply, the falls were named after one of the earliest settlers in the Estes Park area, Alberta Sprague. She was the wife of Abner Sprague, and they also have a lake in the park named after them. I've seen a handful of beautiful images from the falls. It's only a 2.4 mile in and out hike so we made several attempts during our time in RMNP to capture a pleasing image. This was my favorite. I captured this image early in the morning as the first light touched the treetops over the thunderous waterfall. I used the lower section of cascades as a leading line to the mighty falls. It was a good call to head here that morning since no clouds were present for sunrise. I included a sliver of blue sky just above the treetops for a dash of color and a cheerful image.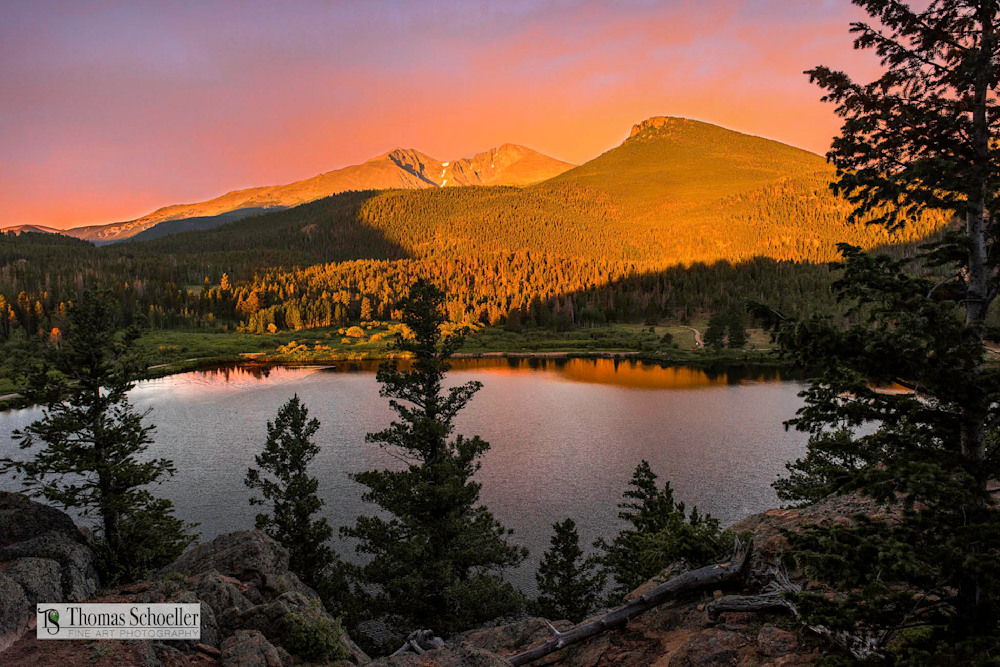 My second RMNP excursion in as many years was with my wife Carol. I wanted to explore other nooks of RMNP so I headed southeast from Estes Park to explore the area around Lily Lake which is shown above. It was acquired for RMNP in 1992, making it the most recent addition. The views are superb and compared to other high altitude destinations in the park, this was fairly easily accessible. For myself, this was a leisurely morning to photograph the beautiful scenery.
The day before we hiked the trails around the lake so I could scope out interesting compositions. The north side offered numerous elevated views through Ponderosa pine and interesting rocky foreground elements. I found 5 great spots I wanted to compose from for the following morning's photography session. This was my favorite image overlooking Lily Lake which fortunately produced colorful clouds and a beautiful golden hue for a very brief moment. In the blink of an eye, the light and color show was over.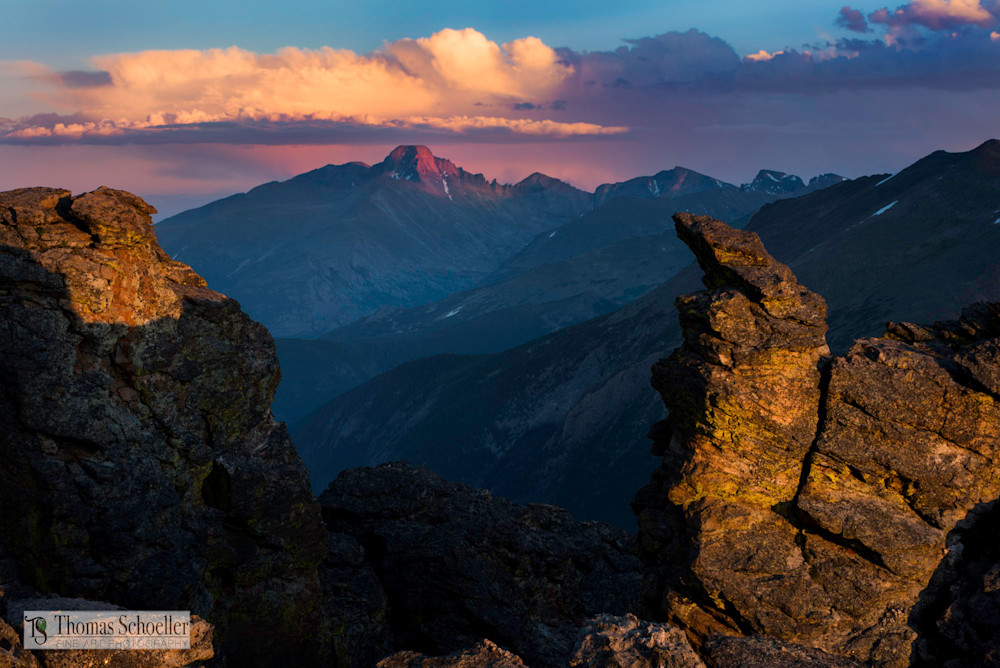 The above image is from the Rock Cut near the summit of Trail Ridge Road. The prior year we had no luck at all trying to pull out a nice image from here. I was disappointed, deleting the entire session from my hard drive files. I had this on my list of "must do's" when I returned with Carol, and it was worth the year-long wait. The familiar diamond-shaped monolith in the distance is Long's peak, the last moments of sunlight kissed the highest elevations with amazing alpenglow. I love this view from Rock Cut, framing Long's peak with rock formations in the foreground. The closest formation to the right that is slightly bent is aptly called the Thumb.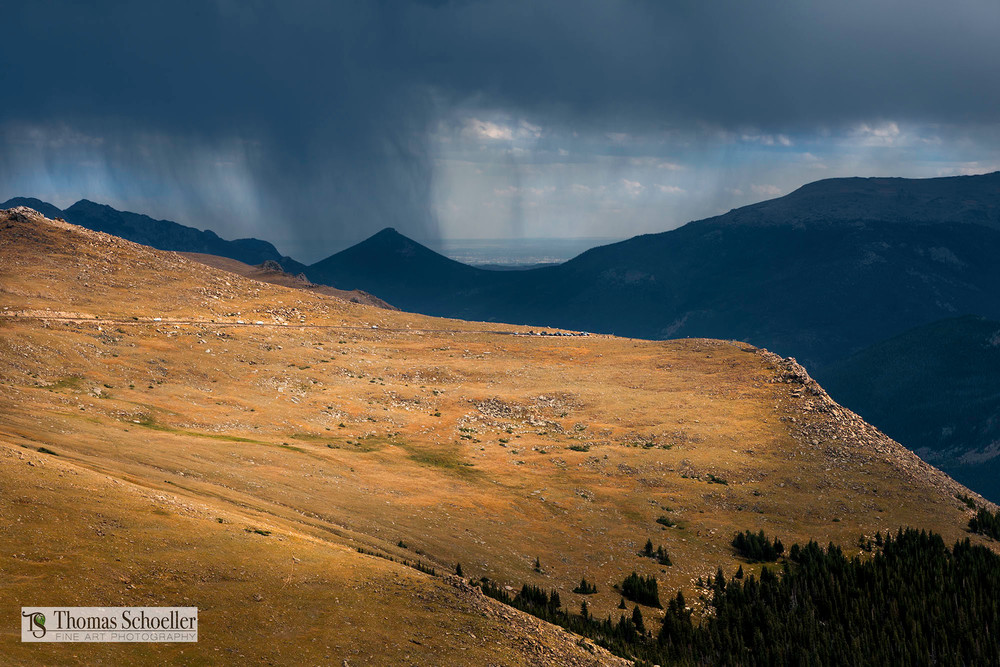 While on Trail Ridge Road during my RMNP 2015 sessions, we managed to get behind a late day thunderstorm for some dramatic scenic landscapes. I enjoy sublime sunrise and sunset opportunities as much as any nature photographer, however, I feel you need to be ready to capitalize on any opportunity that emerges. From our vantage point, we were exposed to a possible lightning strike however the storm was further than it appears. As the sun emerged from behind, it bathed the expansive meadows with a magical luminosity as the distant peaks were still darkened by the ominous storm clouds. The rain shafts had the appearance of a wedge-shaped funnel cloud. I was so grateful to be able to capture a few scenes with a unique variation from others I had made during my time here.

This dramatic view is from the western portion of Trail Ridge Road looking towards the Never Summer Range. If you hang out here for 30 minutes or so you can find yourself rapidly engulfed in heavy clouds and a snow squall, then enjoy the transition of weather systems from the tundra. I became mesmerized by the play of light on the landscape as I photographed this scenery. It's important to note the "quality of light" is the most important factor when capturing the scene for fine art or publication purposes.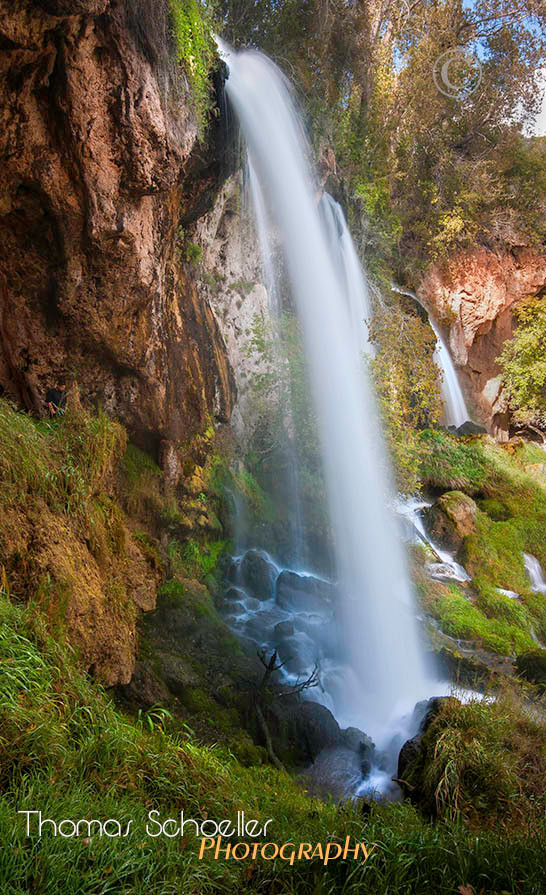 Venturing west of RMNP, we headed to Rifle Falls State Park to explore the limestone grotto and Triple cascades I've heard much about. For this scene, I followed a slender trail that took you close to the thunderous falls. There were countless opportunities and locations to compose great photographs from. The constant mist soaks the immediate area of the waterfalls creating it's very own oasis and a drop-dead gorgeous setting. I found it quite challenging to keep my lens and filters dry to make high-quality images. The battle with the water droplets was worth the effort.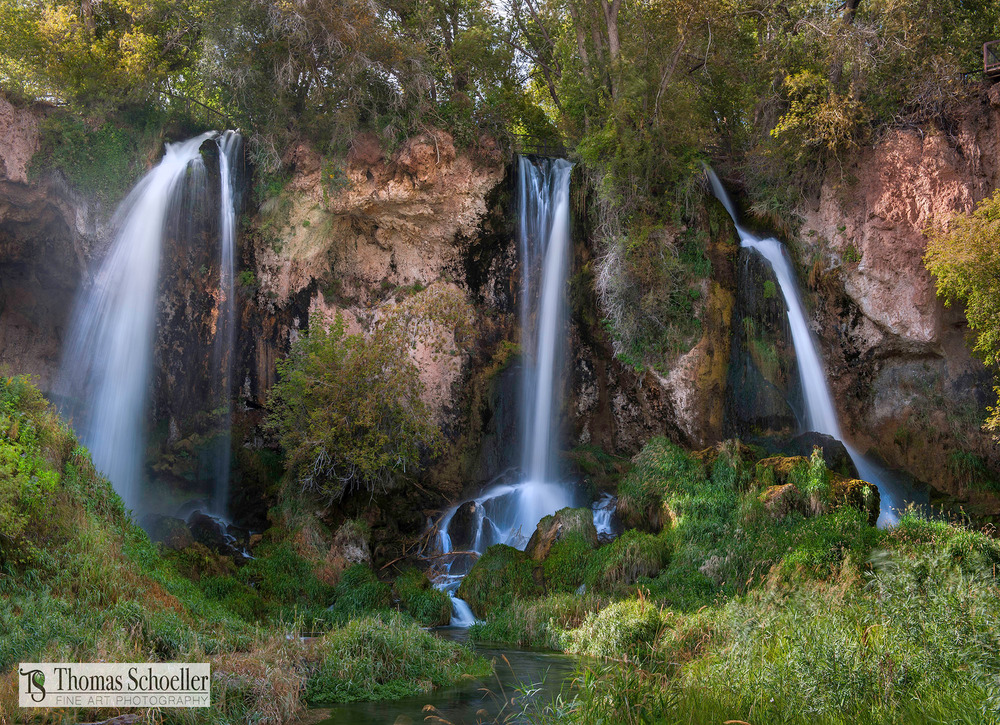 Those familiar with my style of work know I religiously photograph waterfalls during overcast and even slightly rainy conditions or well before the sunlight enters the realm. Certainly, in the forest of New England, direct sunlight makes for high contrast scenes with hot spots and dark areas not conducive to an attractive image. The conditions out west tend to be much different. In fact, all I needed to do was to patiently wait a few minutes for a puffy cloud to diffuse the sunlight to make the exposures. For this scene, I blended 2 images taken with different shutter speeds. The diffused light from the big puffy's was all I needed. I used a variable Singh-Ray ND filter set to 6 to specifically capture the ethereal flow of water at about 1/2 second, while the faster shutter speed froze the movement of the foliage affected by the massive power of the falls. I did this for each composition at Rifle falls.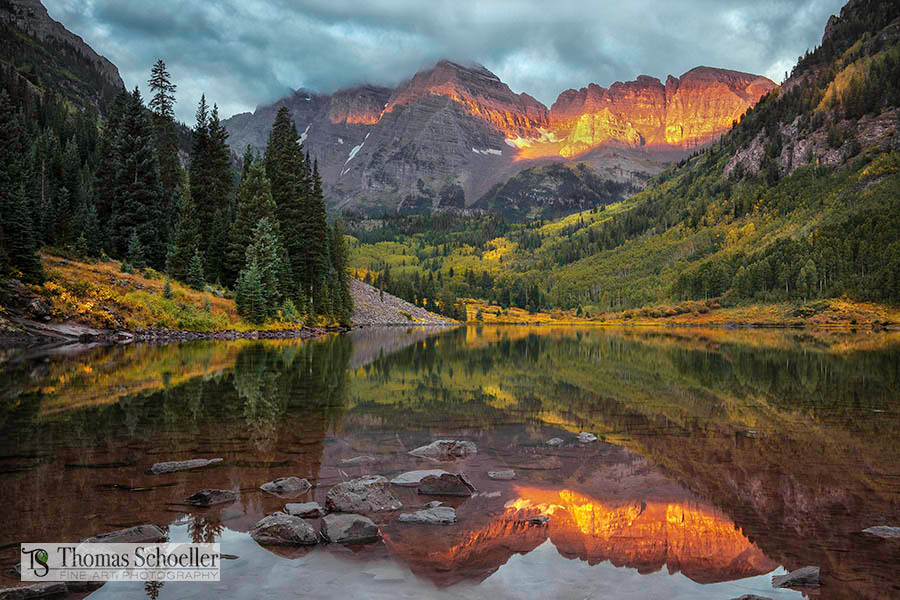 Of course, no article written about Colorado's spectacular grand vistas is complete without mention of this classic of the Maroon Bells. This happens to be one of my very best selling prints from the American West. It's an iconic view and perhaps, one of the prettiest scenes on the face of our lovely planet Earth. I'll likely try to photograph different unique compositions from here every time I'm within the vicinity, finding myself drawn here like a moth to light.
Fellow nature photographer Glenn Randall coined a cool descriptive term in a recently published book. He's described beautiful iconic imagery as an ERNI, meaning an Exceptional Rendition of a Natural Icon. I love it. I enjoy the challenge of trying to walk away from a natural icon with an exceptional photograph. Colorado's Maroon Bells are a perfect example of this. I'm usually not the luckiest of photographers when it comes to off the hook lighting conditions on my first or second attempt for that matter. For example, I tried for a decade to pull off an ERNI from Bass Head Light, Jordan Pond, and Otter Cliffs all in Acadia National Park. I've deleted hundreds of image files over the years from all of these places before capturing some keepers. I was fortunate enough to pull this Bells image from just my second ever session at this location. Certainly, I'll treasure the moment for eternity.
I hope you enjoyed this brief sampling of images and commentary I've made from the time I spent in Colorado and RMNP to date. If you are on Facebook, I invite you to join me there. FaceBook page!