High-End Gallery Style Prints | Acrylic Artworks by Thomas Schoeller
Feb 05, 2021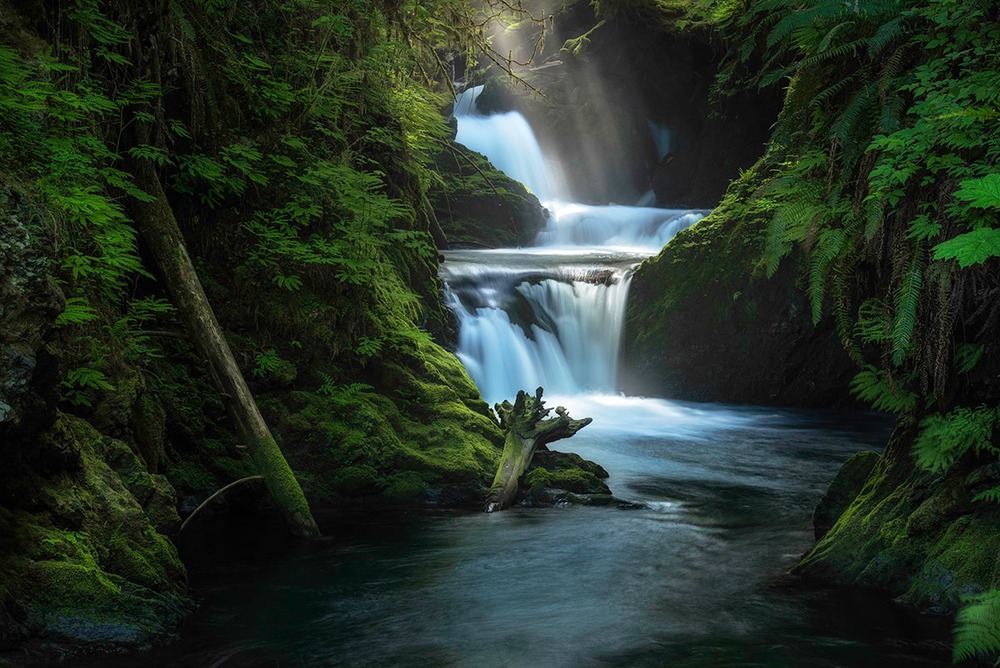 Not long ago, an email came through from a prospective new client shopping for imagery. He lives overseas and said he had a pretty strong connection with (2) of the landscape images I've made available on my web gallery. It's always a thrill to be discovered by new collectors, especially from far away places. Anyhow, as I continued reading his detailed email, he had mentioned the world-renowned photographer Petar Lik's work, and that he experienced it in one of the artist's resident Las Vegas strip galleries.
In his email, he noted that we both had beautiful imagery from the same geographical location or subject. He was just about to invest in one of those acrylic artworks he was connected to from that artist's website. However, the investment seemed a bit steep and he hit pause - and then began looking at the artworks of other high-end artists. This was how he found eventually his way to my own website, and not to mention, a small sampling of superbly talented alternative nature photography websites.
So I admit as I read through this email, I was flabbergasted - yet pretty stoked at the same time. The realization has begun to set in. My own work was being considered as an alternative to Lik's, a "world-famous widely-acclaimed" master photographer. The same artist reportedly sold a single photograph for the sum of 6.5 million dollars. I have to fess up, I'm not particularly artistically "inspired" in any way by his artwork, especially the extremely wide crop style. But I dig the fact he's bucked the elitist system establishment (pretentious commercial art galleries) and blazed a trail for the genre' of fine art nature landscape photography.
Getting back to the email, I arranged a phone call to discuss this prospective client's interest in my work. He revealed that he placed calls with (2) photographers whose works piqued his interest. However, neither impressed him (big egos) nor backed the quality of their high-end media styles. By the end of our conversation, he committed to procuring a pair of 45" Acrylic glass prints and expressed "sincere gratitude for the customer service I provided" to him. I told him to "go with his heart and select the artwork you connect with, regardless of the artist. That blew him away.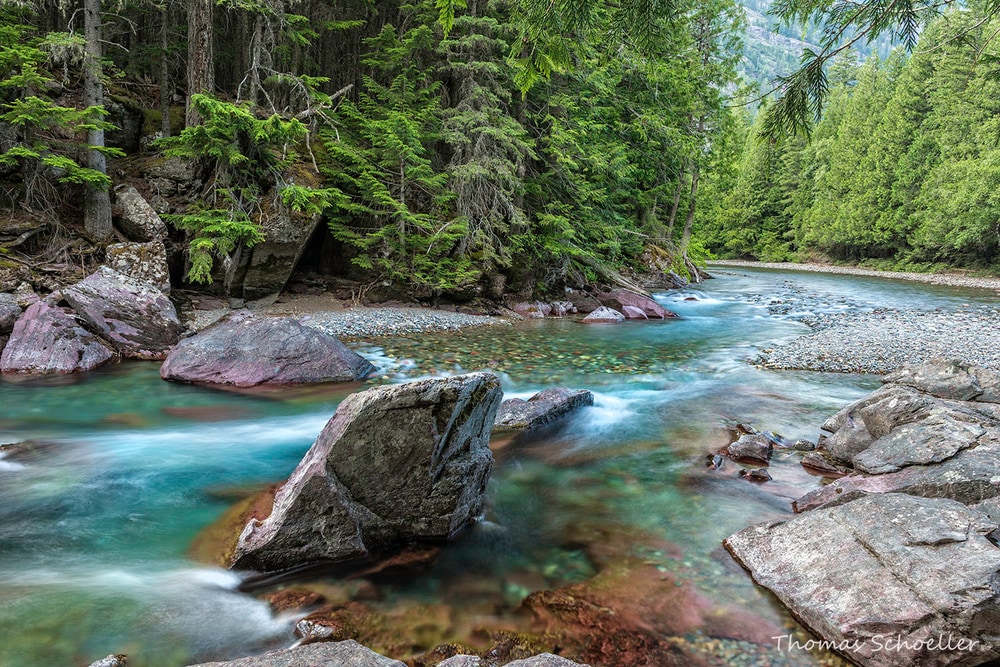 Artwork Titled - Lil' Piece of Heaven
Before we ended our conversation, he acknowledged in his opinion "the investment point" for a single print from the world-renowned artist himself was a bit pricey. He also mentioned he was put off by the editions limit of 950 prints from the artist. From my perspective, I feel each artist can express their own free will and it doesn't really matter to me. I don't critique other artists' methods of conducting their business, however, it's fair to point out what high-end art buyers feel and say about it.
Anyhow, when all the figures were added up, he was able to procure (2) of my acrylic pieces with a chunk of money left over. The pieces arrived safely at their destination, and he ecstatically emailed me the same day and told me he plans to purchase more from me in the future. (Update: He recently followed through and procured three additional 36" acrylic pieces)
What Is The High-End Gallery Style?
In short, it's a print media that is well known for having extraordinary almost 3D depth along with a luminous "back-lit" glow. The print style has gained much recognition due to its visibility in many of those Vegas strip art galleries. If you ever experienced these galleries in person, you may have been invited into the private "darkroom" viewing experience by a sales associate. The lighting and media rooms are used to expertly show off the acrylic face-mounted artworks' ability to trap ambient light and make it appear as though it's being backlit. Photo papers such as FujiFlex, LexJet, and Lumachrome are specially developed for acrylic glass face-mounting which further enhances the qualities of this unmatched print media.
In all fairness, what you DO need to know is this "media style" is not exclusive in any way to artist Peter Lik's work. He had no part in inventing this print media style. There are many photographic artists that specialize in high-end large-format acrylic prints that provide stunning artworks at a better value. If you have dreams of procuring nature landscapes on this acrylic-style print presentation, you are not limited to a single world-famous photographer. Nearly half of all my fine art sales are shipped to buyers as acrylic face mount gallery floats.
---

The Process of an Acrylic face Mount Piece
These are my most impressive pieces, and to be honest -- industry-wide nothing comes close. It's definitely NOT a print-it-yourself-at-home type of thing! Mounting a face-mounted print is challenging and only can be done under controlled conditions. Acrylic face-mount prints are also a costly print media to produce for photographers, so the price point is not for everyone's budget. For those that can indulge in pure luxury, the format never falls short of expectations. So let's get right into the process of an acrylic face mount. I'll begin with the photo print itself. Typically, state-of-the-art LexJet Sunset Metallic, FujiFlex prints, or Lumachrome is used. They provide UltraHD resolution, as well as more vivid and saturated colors and improved light resistance for longer-lasting photographs, and superior image quality.
The print is then encapsulated between a sheet of crystal clear acrylic glass and an aluminum DiBond backing material. The acrylic glass is lightweight and shatterproof, and it enhances the appearance of the art print, making both the vivid colors and depth of the piece really pop! The DiBond, as shown in the display above, is a 3 layer material making the final hanging piece exceptionally sturdy. They are shipped frameless, and ready to hang.
---
Costs Comparisons
Generally speaking, most collectors are not consumed with comparing side-by-side costs analysis. Like pitting artists against one another. The majority of serious nature photographers stick to a "very small and select grouping of high-end print labs" to produce our finished works for us. Pricing between photographic artists seems to be fairly consistent -- some variations such as TruLife ® glass, Roma edge moldings, or crating costs may skew the costs.
But what's at stake here is value - and how value is perceived. The claims of over 6 million dollars for a single print sale to an unknown buyer are highly debated. A New York Times article claims this is a form of marketing to "artificially inflate" pricing. Comparing price points his Limited Edition (LE) pricing begins at $4000.00 for the smallest LE 100cm prints. A 100cm is closely comparable to my own 36x24". My own price is $1300.00 for the 36" and that's not cheap. So are you getting slightly over three times the value? I'm not saying it is, or not. That's for the buyer to decide.
Let's quickly jump up to 150cm, which is comparable to a 60x40" piece. His pricing (LE) pricing begins at $7550.00. My 60x40" acrylics are priced at $2895.00. Keep in mind, that's just the starting price for "his" (LE). As his editions advance, the pricing increases at a rapid pace.
Lastly, his Open Edition prints are 55cm, closely comparable to a 24x16" print. His is OE is priced at $1595.00, while my price point for a 24x16" Limited Edition is $625.00. Food for thought.
The artwork on Display titled - Crawlspace
GO WITH YOUR HEART
So if you really love a certain piece, whether it's my work or someone else's, I encourage you to reach out to procure that piece. Keep in mind, when you purchase directly from the artists, you avoid gallery markups by 40 or 50% in most cases. Nature photography has wonderful health benefits and induces the feeling of calmness while reducing stress, so you can't go wrong. I don't find fault with anyone that places a higher value on the perceived rarity of (LE) prints. If you are deeply connected to the artwork and you can afford it, by all means, you should do what makes you happy!
---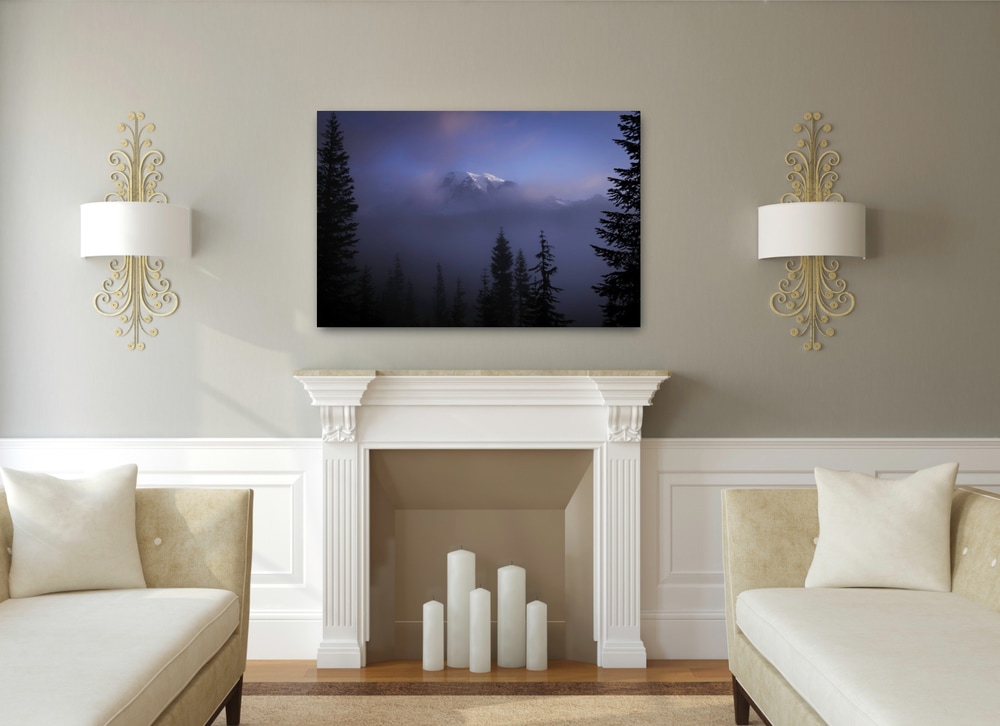 Displayed Acrylic Piece titled - Risen
Closing Thoughts
Some people come across an artist whose work they love, and they follow that artist and make multiple purchases over several years. I have my own collectors spread over (4) continents, so I understand what that's all about. Despite the fact that my collectors base has grown in leaps and bounds and my works are in demand, it's been my personal approach to keep my pricing structure reasonable. I also provide alternative media types within my Limited Editions if they cannot swing for the premium acrylic face mounts. I'm in no way affiliated with any artist or art galleries mentioned in this blog. My point is, no single photographic artist is exclusive to the style of acrylic glass prints. Many high-end photographers have been using the media style since its inception.
I'd love to have my own brick & mortar at some point, but what I have in mind has the same sex appeal as those high-end Vegas strip galleries -- but on a much more humble low-key scale. Come to think of it, I can make a 400 SF space work just fine! Please continue supporting small independent artists!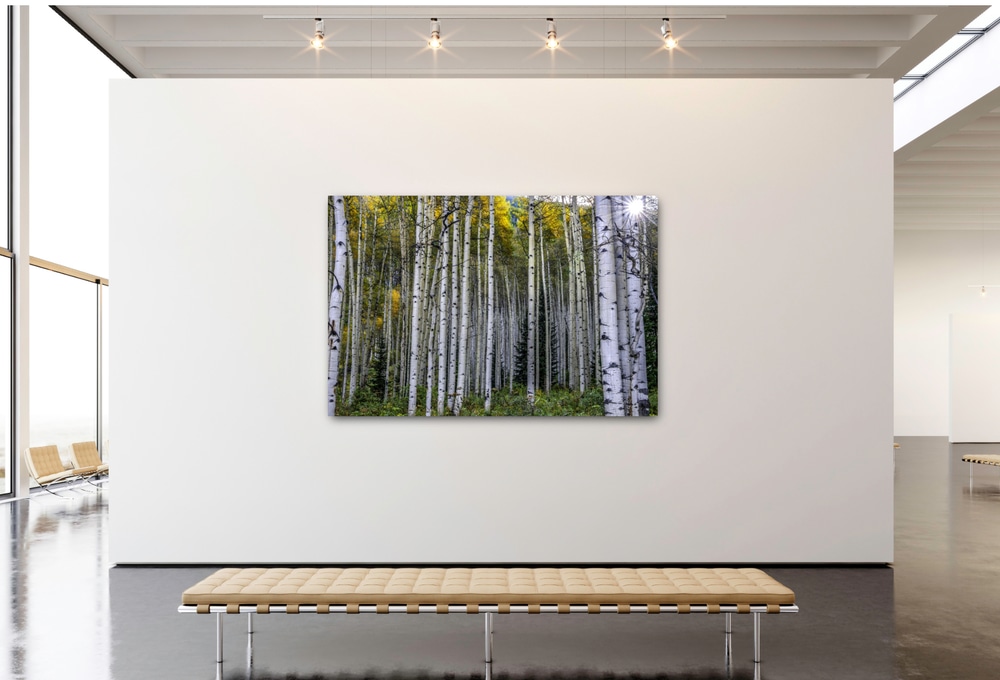 Art Gallery Display - Piece titled INFINITY