The Connecticut Etiquette Landscape Photographers Guide
Nov 08, 2020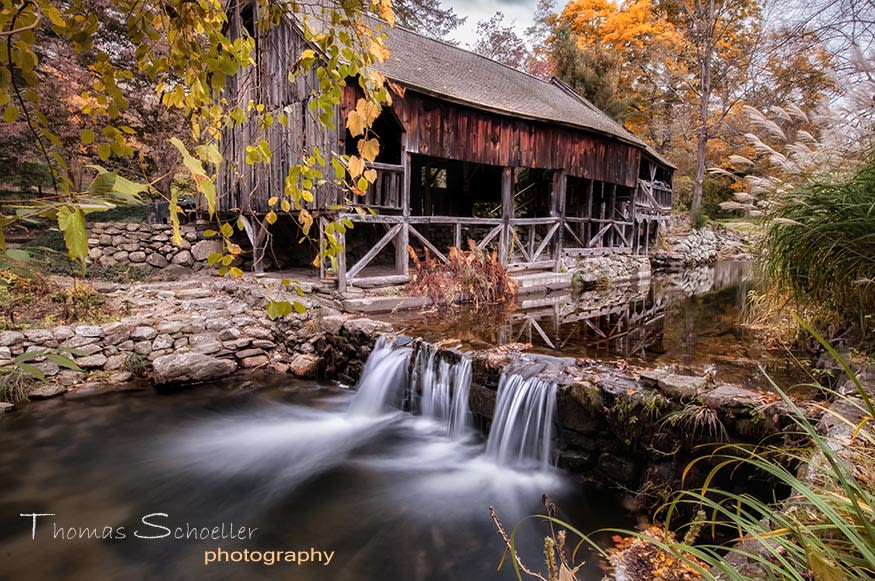 I like to refer to those more subtle, yet highly picturesque Connecticut scenes as our "little nooks and crannies". The Grist Mill scene above is a great example. This happened to be located on a private estate. You'll need to be ambitious and explore the roads less traveled to find them. However, even when you do, it's very likely you'll find a scene that inspires you to explore closer and --- ugh -- find out it's aggressively posted Keep Out! It sure can be tantalizing to infringe upon a marked boundary despite what your better judgment is telling you. Thus, if you prefer to step outside of the box, this article acts as a guide of sorts and may help you get that great shot that seems just out of reach.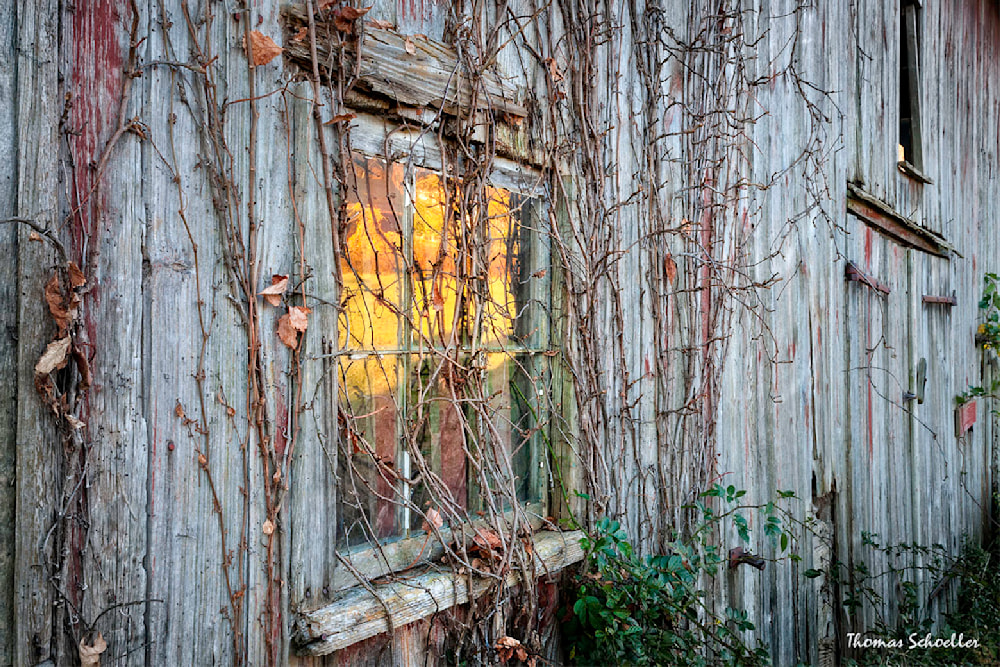 Don't Ignore the Keep Out Signs
You're quite likely to find Keep Out signs anywhere you explore in Connecticut. It may seem they grow naturally on trees and at some point, you don't even notice them anymore. So one big question that comes to mind is "what's my risk by chancing it and ignoring the keep-out postings?" A follow-up question to ask yourself is "what can I do to avoid conflict, yet come away with a great image?" To begin answering this, you can definitely add some wonderful imagery to your portfolio by polishing up on a people skill I originally coined in 2013 as "Connecticut etiquette". This is something that will come in handy and even lead to rewarding relationships, including future opportunities. Luckily, the old rustic barn and reflection scene above was an opportunity set up through someone -- who knew someone -- and it worked out beautifully!
Connecticut Etiquette has a nice ring -- basically, it's a common-sense approach aimed at getting yourself invited onto stunning private estates while making extended contacts. It's taken years, but those years have led me to develop mannerisms and an inquisitive nature that let people know you are sincere and can be trusted. Generally, virtually every property owner I've spoken with wants to remain anonymous. They don't want their estate to become a playground for photographers to let themselves in at will. I've gained the trust of many property owners, and have never revealed the locations of any images I photographed on private lands. Several of them in fact are public figures, ranging from politics, actors and actresses, and athletes. I've been asked countless times by photographers to reveal where I photographed the artwork titled "Pride" (image is shown below) -- and the "Old Grist Mill". I'm so grateful to have been offered the opportunity and will keep their privacy wishes my secret even if they were to sell their property.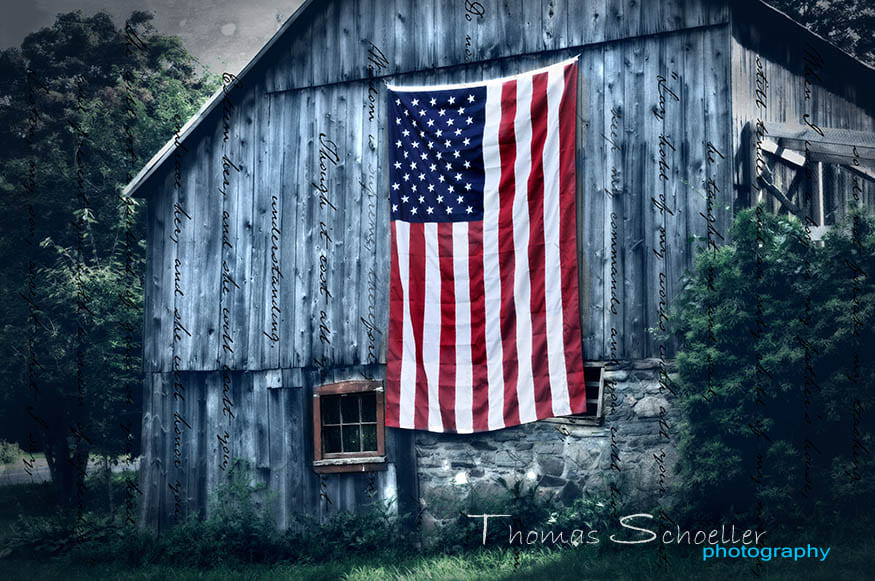 Build Trust
So how to get started? Most importantly, you want to make a strong first impression. Be sure to bring a business card, especially with a link to your website or social page. Trust me, they'll want to see if your a hack or a pretty serious photographer. Oh, and be sure not to have one of those creepy half-hidden while peeking from behind your camera portraits on your website! Trust me, it's corny and you look like an amateur. Use good judgment to appropriately time your planned visit. Driveways and walkways are invites to doorways -- unless the entry is padlocked. So be sure to stay ON the path and head straight to the door. Have all your thoughts well organized, introduce yourself confidently, and be sure to get to THE POINT so they don't think you're trying to sell them something. Just offer a truthful compliment. Explain that you've spotted something that may be on their property (an old barn - covered bridge replica - a garden or natural feature) you find to be photogenic -- at least as viewed from a distance. A kind compliment may get you to first base pretty quickly. Telling them you'd never enter their property without permission goes a long way. Let them know you'd love an opportunity to come back and photograph it during appropriate lighting, and that you'd be willing to even sign an agreement that you would never reveal the location or address to anyone if they would like to have that. Also, be prepared to offer them at least a print if you feel the resulting imagery was worthy of making one.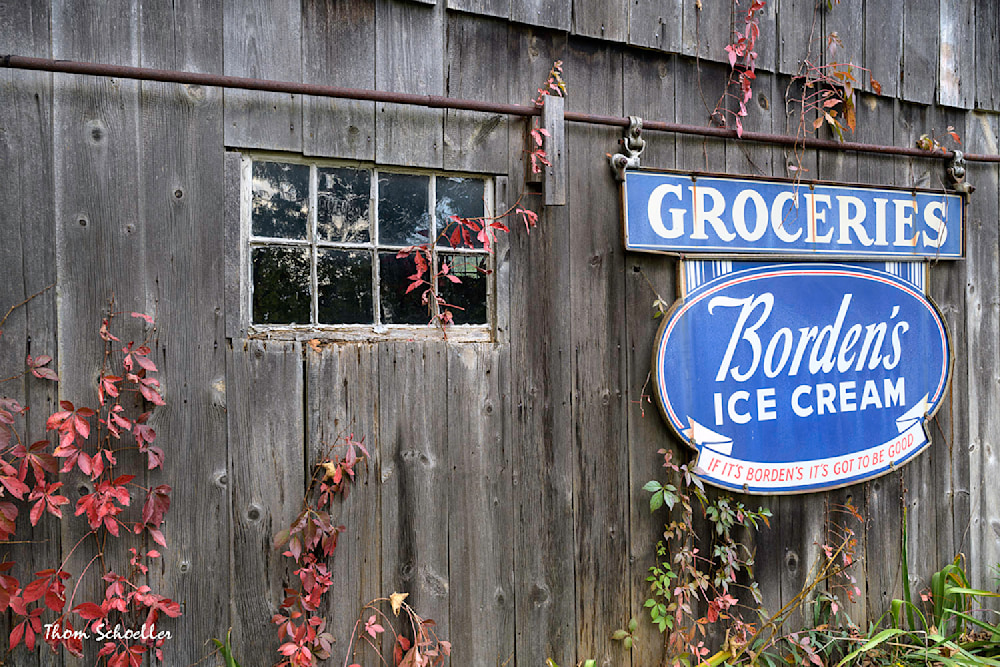 You'll Never Know What You'll Find!
This is exactly how I have approached each and every opportunity. I can only think of one time when an elderly couple was home and I inquired about photographing a scene where I was greeted with some degree of confusion. I wanted to walk down a curvy dirt tractor road under a canopy of trees on a foggy fall day that started from the corner of their lot. It was so bucolic, and I knew the ONLY people that are familiar with the view were farmers working the land since the turn of the previous century. From their perspective, it was nothing special at all and tried to tell me I'd be wasting my time. They placed no value on art or photography. I can't remember a time I was made to feel more alien to my own planet. It took some genuine effort, in fact, I probably could have asked to cook eggs and make toast in their kitchen and get a faster positive reaction. I eventually did get permission, only to find hidden from view was they were using portions of the land to dump off discarded tires, 55-gallon drums, and other unsightly objects.
From this point on, they may need to take a few days to reach out to you. Having a good online portfolio and vitae usually get an exuberant return call in a short period of time. The wait is a small price to pay to obtain permission to photograph a scene that few people lay eyes on.
The bucolic autumn barn and fence below was a miraculous find, and perhaps the best example of getting off the beaten path to find a great scene to photograph in the state. The road I drove on was not even winter maintained and the sign stated: "pass at your own risk". I found it by accident, having pulled off the dirt cow path so I could follow a really nice stream to discover some cascades. My hike into the woods paid off with a view completely out of sight.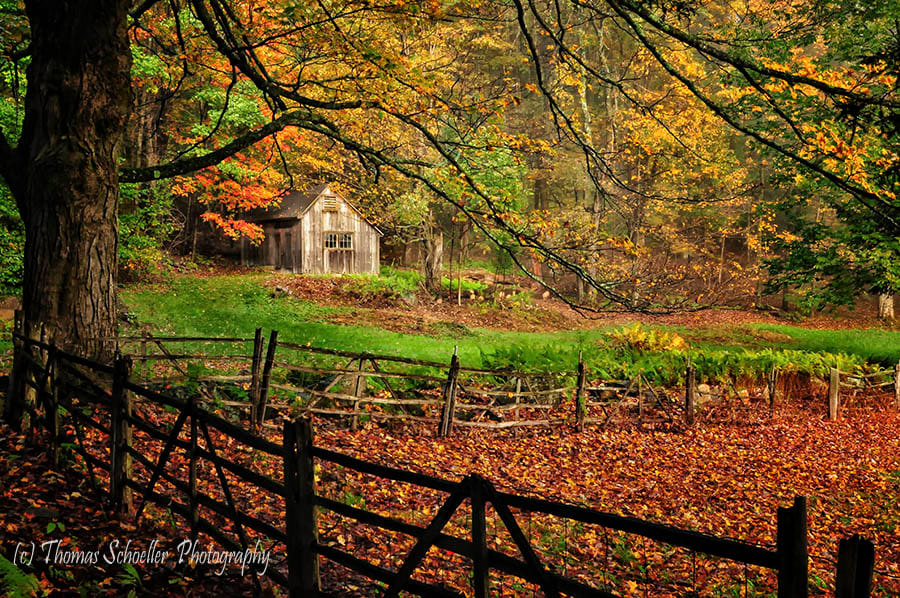 Interested in one-on-one Photography Coaching and Workshops?
Hey, are you on Facebook? If so, Follow Me!
Open Edition Connecticut Fine-art Photography Prints