Elevate your walls Decor with Luxurious modern fine art nature print formats
Mar 03, 2020
What's on your Walls?
It may be time to consider elevating your wall art to a much higher level. If that is the case, there are a few things to take into consideration. Are you up-to-date on modern-day photographic print technologies, and how the visual impact plays such an important role in your home's interior? I can assist you with obtaining a piece that stands out and introduces a whole new theme to your space while making a profound statement. I'll explain to you all the Fine Art Nature Photography pieces that can provide you with a genuine WOW factor. If that is something you are considering, then I would LOVE this opportunity to share with you the two most amazing finished gallery-quality high-end print media formats in which to procure a Thomas Schoeller print.
Old Traditions vs. Advanced Print Display Technologies
To really grasp these amazing luxurious wall-mounted print formats and explain how you as an art lover or connoisseur can benefit, let's start with a look back at the traditional "old school" method of displaying Fine Art photography. You probably guessed correctly, I'm referring to the commonplace but now very archaic framed and matted print. There is nothing that screams "The 1990s are calling, and it wants its art back" louder.
I'm not intending to ruffle anyone's feathers so to speak, and certainly your not breaking any laws or rules. The real question is, are you really getting the most enjoyment and return on investment from this aesthetic experience? Secondly, do you even realize the hidden cost to you for choosing this route? There is nothing innovative going on here at all. It's not cutting edge technology or superior craftsmanship, it's the basic same old, same old (yawn). Believe me, your guest do take notice.
It's time to liberate yourself from these old boring methods of displaying fine art nature and open yourself up to the latest modern improvements in Fine Art print technologies. I can show you the latest advancements that can totally transform the atmosphere of your space. You can bring in natural scenery with such high definition and resolution they can provide therapeutic Eco-Art qualities or even help you achieve a meditative state. New energy, positive energy! A print that speaks to you and makes you happy.
I recently took part in a published Redfin article titled Creative Ways to Display Photos in Your Home. They reached out to specialized photographic artists with experience in modern print display methods and I was more than happy to be a part of it. It definitely hits a home run and emphasizes many of the points I try to make throughout my website.
Before I introduce you to ways in which I can help you elevate your wall art to a higher level, first let me make a bullet point list of the CONS of the old methods of traditional framing and matting of paper prints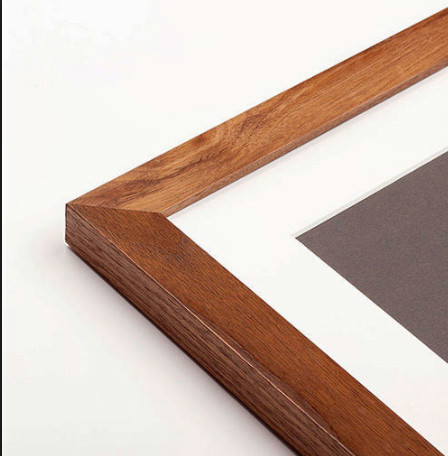 The old basics: wood frame/mat or a double mat/hinge mounted print/sheet of glazing
CONS of framed and mounted paper art prints
The cover sheet of protective glass (glazing) offers little or no UV protection. Higher UV protective glazing requires a substantial investment
The glazing is extremely brittle and quite heavy. Plastic replacement sheets offer much lower aesthetics and easily bow
Glare from sidelight is always an issue
You may experience moisture behind the glazing which is caused by outgassing from the print
Archival quality matting material and mat cutting labor is exorbitant
High markup on mounting materials and labor
The combined thickness of the mount board, proper spacer, mats, and glazing sheet requires more costly external framing with a deeper rabbet depth
Hinge mounted paper art prints frequently buckle due to the nature of humidity changes and radiant room heat
Hanging methods using wire and wall clips are NOT secure and the artwork is easily moved on the wall
Innovative Modern Day Display Solutions I Offer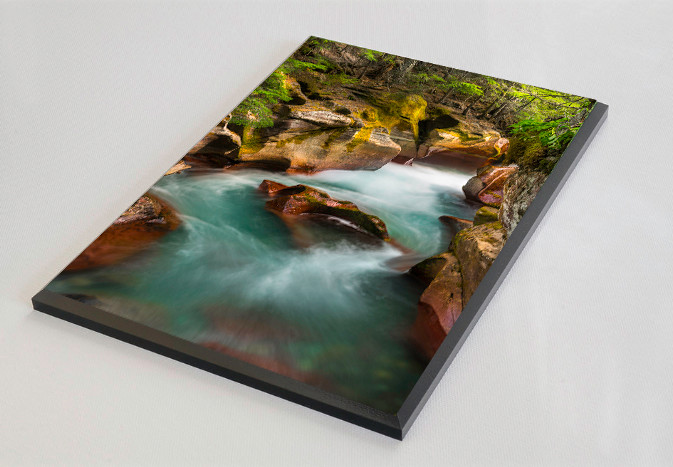 My art prints mounted on a Wood DuraPlaq. Added Dimension, premium quality, durability, with stylish beveled edges.
The artwork is encapsulated behind UV and Moisture protective finish. I embellish a bit more below.
My path to Advancements in Fine Art Print Technologies
In order for me to stand apart from the herd of fine art photographers out there, I wanted to offer a unique format and I knew I had to get creative. I began to experiment with my own mounted acrylic glass concept by placing the art print between sheets of high-grade acrylic. I loved the look of the presentation but was limited to using offset barrel post to squeeze the sheets of acrylic together on the outer corners. To me, it looked very corporate and the post distracted me. I next discovered larger prints still moved around a bit behind the top sheet, and this was a time-consuming adventure that required large quantities of space. I was onto something really cool but was becoming frustrated with the process and trials. I wanted something opulent, sleek, and museum-quality that cut down the steps involved with old traditional methods. I wanted something that defined Luxurious Fine Art Nature Photography.
The "ah-ha" moment finally occurred when I attended a National trade show specific to professional photographers. To my pleasant surprise, I found a professional print lab that blended in without drama among the hundred or so wide-ranging photo industry vendors. They were developing a unique product that was similar.... but..... way more sophisticated display than what I was trying to develop. They created a face-mounted technology using a specialized archival quality print paper that could be encapsulated flawlessly behind a sheet of diamond polished acrylic. It gave the artwork an almost 3D appearance with depth and vibrancy that I've never seen before. I was blown away. On my website, they are called Face Mounted Acrylic prints.
Since that day I've developed a long-standing relationship with them and they provide me with one of my two most loved and the highest quality fine art wall mount presentations that I offer. This is a sleek gallery quality option that is frameless. They are securely hung to your walls using french cleats, and a recessed float mount frame behind the artwork spaces the piece about 1/2" from the finished wall. Each piece is ready to hang the moment you unpack it.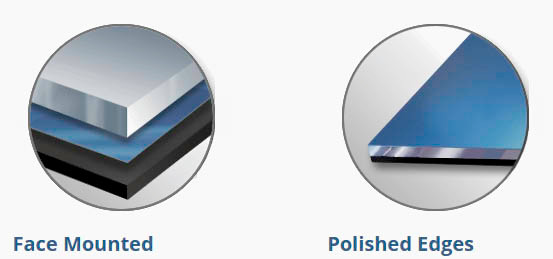 Close up side profile of my Frameless Acrylic print option
My Acrylic Face Mounted prints do not require any additional expenses since they are already permanently mounted and encapsulated. There is also no expense for custom cut mats. Unlike the brittle 1/16" glazing sheets we went over previously, the top layer of thick 1/4" acrylic provides UV and moisture resistance and the technology allows it to capture ambient room light reflecting it off the specially developed pearl finished fine art print paper giving them a backlit appearance!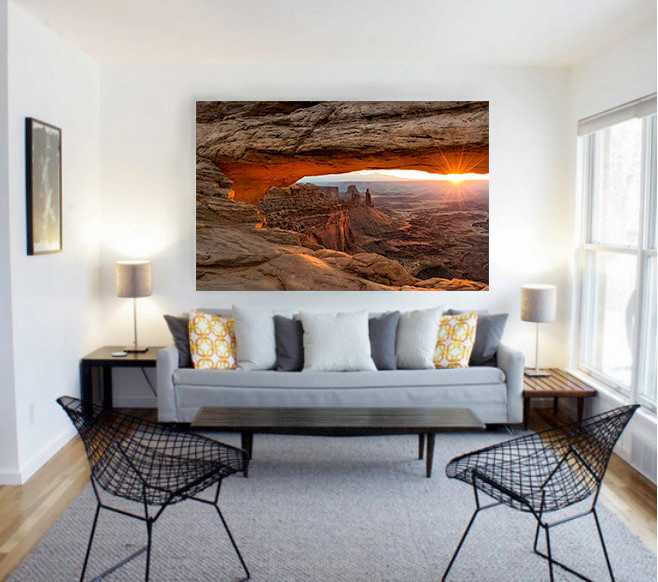 Featuring a frameless acrylic face mounted print of "Sunrise at Mesa Arch"
Wood DuraPlaq is a brand new dimension in displaying my nature photography prints and is the other preferred method which to decide from. While researching an attractive alternative for clients looking to purchase nature photography from my website gallery, I found exactly what I needed to fill that niche. I wanted to retain both that frameless appearance and the exact same float mounted display option intact while bringing in an attractive and unique edging around the artwork. If you scroll back near the top of my blog I have a sample photo of a Plaque Mount with the Black beveled edge treatment.
The plaque mounted pieces are a different process compared to my Acrylic pieces and involve using an eco-friendly wood base. The art prints are top-mounted, and then fully encapsulated by durable a UV and moisture protective surface finish that enhances the print. This is just such a creative way to preserve and present my fine art prints, combined with 3 different wood edge color variations that enrich the appearance by combining wood grain and a superb patina along with the 4th option which is Black.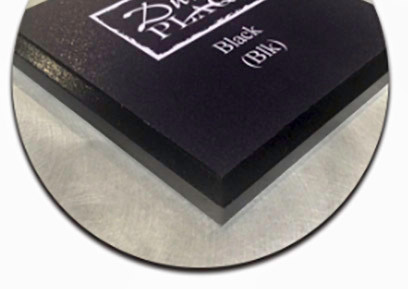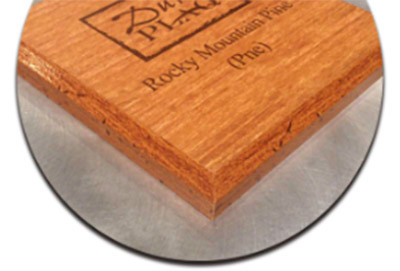 These are 2 of the optional edge treatments I offer. Black and Rocky Mountain Pine are the most popular
Hand Crafted Quality and UV Protection are important factors for myself when deciding on any display formats I'll be combining with my imagery. The goal is to create a unique piece that will bring happiness exceeding a lifetime. The saying "Quality over Quantity" applies equally to the HD Acrylic and Plaque Mounted formats. Any piece you order from my website is a Custom order and deserves the highest attention to quality. No self-imposed time limits are incurred during the production period. Expect a 2-3 week turn around time from the moment I place the order into its final production queue.
If you are ready to begin shopping for a new piece, we invite you to Discover My World of Creative Imagery combined with these Innovative Modern Day Formats.